Turn your Android into a second PC monitor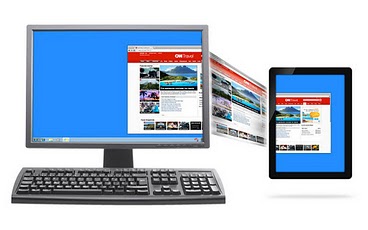 Anyone who has worked with a dual monitor setup will be aware of just what a productivity boost the extra screen space can be. The ability to have more than one application visible in full screen mode enables you to view more information at any one time is incredibly useful and it something that everyone should try. But whether you have a couple of monitors sitting on your desk or not, ScreenSlider enables you to gain a little extra space using your Android device.
The app can be used with either tablets or phones, and while both are useful options, tablet owners undoubtedly get a better deal thanks to their larger screens. ScreenSlider simply requires that you install the free app on your Android device as well as the desktop software on your PC and the software will then automatically detect your phone or tablet over your wireless network from your computer. You can drop any program window onto the display and take advantage of it whilst sat at your desk or move further afield --providing you stay within range of your network.
Performance is not high enough to allow for your new wireless monitor to be used to stream video from your computer but it is useful for housing your web browser or inbox. The cheaper version of the app is slightly limited, but the installation does include a 30-day trial of the extra features that are to be found in the Pro version, including pinch-to-zoom gesture support, the ability to use the Android keyboard to enter text as well as the handy ability to transfer files between your computer and Android device.
It's a shame to see that there is no support for Mac users at the moment, but hopefully this is something that will be addressed in the future. As it stands, ScreenSlider is an interesting utility. Android phone users are unlikely to find that the extra two or three inches of screen space can be put to much use, but tablet owners will find that they already have a second or third monitor in their possession, and this is screen space that can be genuinely useful.
You can find out more and download a free copy of the app by paying a visit to the ScreenSlider review page.