VirtualBox 4.1.10 improves Windows 8 compatibility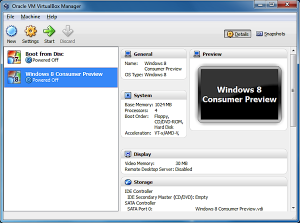 Oracle today released VirtualBox 4.1.10. The build is essentially a maintenance release, but it's wide ranging enough to make it worth installing. Assorted additions include SSL/TLS support for VirtualBox's web service, for instance. The changelog notes "some Windows 8 adaptions" in this build, though it doesn't tell us any more. And the Linux build gains support for X.Org Server 1.12.
Elsewhere, notable bug fixes include several that will improve system stability. A possible guest memory corruption issue has been addressed; the Linux build will now properly flush all data when closing a memory-mapped file on a shared folder; and a bug which could result in corruption when compacting VDI or VHD images with snapshots has also been resolved.
And other changes cover everything from rendering issues on Linux to getting Python to work on OS X Lion.
The full list of fixes and additions is available at theVirtualBox Changelog. If you'd like to update, then you can do so by clicking Help > Check for Updates within the VirtualBox Manager. Or, if you need to reinstall, the full VirtualBox 4.1.10 setup file is available for download now.