iPhone camera app learns your appearance by your Facebook pics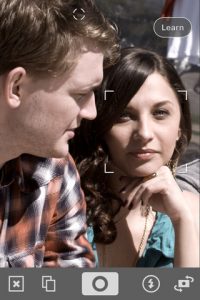 In the three months ending on March 31, 2012, there were more than 300 million photos uploaded to Facebook every single day. Not only is it a staggering amount of content to organize, but it is also a huge stockpile of graphical data that can actually be put to use.
A new iPhone camera application was released on Thursday to take advantage of this mass of data.
Klik is a camera application based entirely around the concept of face recognition via the Face.com facial recognition platform and your Facebook social graph. The pictures of all your friends act as a photo training set for the application, and it builds profiles of each individual based upon what they look like in their existing Facebook photos.
Then, any time you capture an image in the Klik camera app, faces are compared in real-time to the profiles of your Facebook friends for instant recognition and automatic tagging. Profiles of individuals who aren't your Facebook friends are built entirely within the Klik app.
Klik also incorporates the ever popular photo filters, but these are called "Face Filters," and dynamically picks filters based upon the location, size and number of faces in a photo.
Klik 1.0 can be downloaded in the iTunes app store now and requires iOS 4.3+ and a Facebook account.