What's in game at E3 Expo? You wanna know, and we're gonna tell you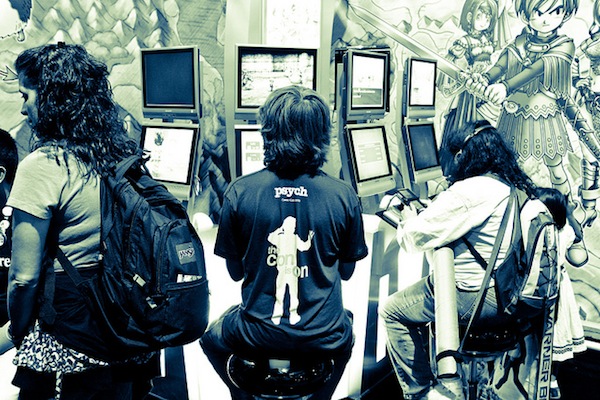 Follow me, Patrick Roanhouse, as I cover major press news from the E3: Electronic Entertainment Expo -- the the biggest video game trade show in the United States. Developed and birthed when the video game industry outgrew the once gigantic consumer electronics tradeshow Comdex, E3 expo first pressed the start button in 1995. 
Historically Los Angeles based, E3 Expo marks the start-off point for the titans of the video game industry to sell their newest wares to retail corperate buyers for the Latin, American, and European markets in Las Vegas-level neon showcases. An industry, journalism, and buyer only tradeshow, attending E3 Expo typically is the the dream for most video game nerds eager to see the next big thing.
News breaks, tech is shown and people openly weep. Joy or sadness, you never know which. But this is the tradeshow that gets kids and man-childs burning pen to paper for holiday wishlists. This year plans to be a big one. Sony, Microsoft, and Nintendo are all speculated to announce or set release dates for big bad brand new home game consoles.
The industry has greatly evolved since the days of Pong, Atari 2600, and Colecovision. Video games and video consoles are massive multi billion dollar multimedia convergence platforms. With the integration of "apps" and downloadable content the new game consoles have evolved to now be the end all be all box for your home entertainment experience.
But the big-three console makers will be drop big news this year. As previously stated, Sony, Microsoft, and Nintendo, each have new consoles in the works. Now pushing the boundaries of the online gaming, 2k video, motion control, and 3D. If rumors are to be believed, 4k video will be state of art and gamers will get even more user control with voice and motion. Nintendo, though, is just entering the HD race with the new Wii U, while another minor internal beefed up to the Wii and Gamecube; its new killer feature is an iPad-like six-inch touchscreen and joy pad combo controller for the primary player. It was demo showcased behind closed doors at last year's E3. But the big question burning in most gamers' mind's eyes is ''What will Sony and Microsoft have?"
Sony has their system spec leaked Playstation 4, codename 'Orbis'. In the Microsoft camp, they have their developer whispered Xbox 720, codename 'Durango'. Both are rumored to support more platform services intergration for online stores and media playback. But they are also rumored to push full 1080p 60fps 3D video support. Also multiplayer and 3D games the tech is being prepped to handle the future Super HD video standards of 4k video -- display tech that only just got announced in prototype form at the CES 2011 tradeshow this year from LG and Sharp.
The point is the big boys are coming out and they are ready to fight it out in this next chapter of the console wars. I will provide coverage from the press conferences and interviews with developers over the course of the insanity that takes the downtown LA area like a tropical storm.
The current schedule for major press conferences I will focus on are:
Monday, June 4th, 9:00 am -- Xbox E3 2012 Media Briefing
Monday, June 4th, 6:00 pm -- Sony E3 Press Conference
Tuesday, June 5th, 9:00 am -- Nintendo All-Access Presentation @ E3 2012
Tuesday , June 5th, 6:00 pm -- ShowStoppers @ E3
All times are Pacific.
I will also do booth tours and interviews and post them as the day goes by between the show floor days June 5th to June 7th.
Photo Credit: Joe Wilcox