Instead of buying a touch-enabled PC for Windows 8, just use your iPad or Android tablet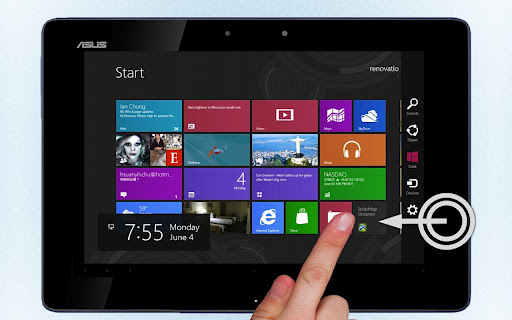 Splashtop Inc. makes a handful of applications that allow users to link their mobile tablets with their PC in different ways. On Wednesday, the company released a new tool for developers that lets them use an Android tablet or an iPad as the touch interface for Windows 8.
Called Win8 Metro Testbed -- Powered by Splashtop, the application recognizes more than a dozen Windows 8 touch gestures, including: Swipe to view the Charms menu, Swipe to switch apps, Swipe left/right in Internet Explorer to move between pages, Swipe down to bring up additional menus, Swipe down on an item to select it, Pull down to close an app, Slow swipe to "snap" two apps side-by-side, Swipe to show running apps, Pinch for "Semantic Zoom," and more.
The solution is meant to give developers a way to test their Windows 8 app touch interactions even if they don't have a touch-enabled Windows device to test upon.
Win8 Metro Testbed is available in Google Play and the iTunes App Store today at a discounted price of $24.99. After launch, the app will be available for its full retail price of $49.99.