Use AirDroid to manage your Android, no cable required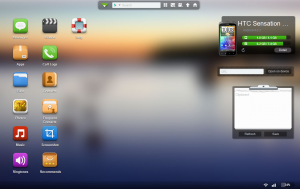 Want to get some photos off your Android phone or tablet but don't have your USB cable with you? Looking for a way to send SMS messages from your computer? Want to copy and paste text between your Android device and computer? These are just some of the things that AirDroid could help you with.
This free app enables you to use your web browser to connect to and control your Android device on a Mac or a PC running Windows or Linux. Connect your computer to your phone or tablet -- there's no need for a desktop program to be installed -- and you can do this on both your personal computer and those in public locations. You can establish a connection in a matter of seconds by firing up the app on your mobile device and then visiting the URL you are provided with. After entering the password you've been given, you'll be presented with an online desktop that you can use to browse and manage your Android device.
There are various ways in which you can move different types of file between your phone or tablet and computer. The integrated file browser supports drag and drop to make moving files around as easy as possible, and there are also dedicated 'apps' that can be used to work with photos and music. You can play music from your Android device with or without copying first and even change ringtone and alarm notifications.
Also available are a call log manager as well as a messaging component. This can be used to not only browse through the messages you have received, but also to reply to text messages using your computer keyboard. You can also use the browser interface to install and uninstall apps, check how much free spacey you have available, and use a shared clipboard to copy text between devices.
Despite the fact that this is only a beta tool, it is already very accomplished. If you have an Android device this is a must have app which is quite unique in its range of features and ease of use.   You can find out more and download a free copy of the app by paying a visit to the AirDroid review page.