Amazon Instant Video apes Apple, releases app for iPad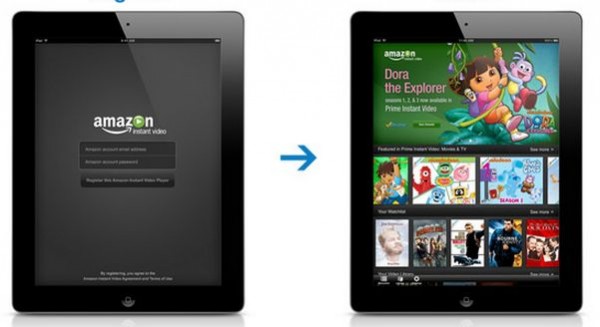 Amazon Instant Video, the little video service that could, has now moved into Apple territory. Starting August 1st, Amazon will be releasing an iOS iPad app for its Amazon Instant video service. The new app allows iPad users who are also Amazon Prime account members to access the 20,000+ title collection of videos available to them.
The new iPad app also allows viewing of Amazing Instant Videos not in the "free" Amazon Prime video section as well. The Amazon Instant Video App for iPad also offers access to "Your Watchlist," a list of all the movies and TV episodes Amazon members want to watch in the future, regardless of if they own the video or not. Also, the app provides access to a "Your Video Library" feature that gives iPad customers access to their previous purchases and rentals from Amazon Instant Video. Another nice feature is the option to either watch over a Wi-Fi connection or download the video for offline viewing mode.
"We want to give customers the convenience of being able to watch all of their movies and TV episodes, wherever they are, on their iPad," said Anthony Bay, Amazon.com vice president for video. "Today we're excited to extend our 'buy once, enjoy everywhere' approach to iPad, giving customers the chance to enjoy more than 120,000 titles from Amazon Instant Video and more than 20,000 titles from Prime Instant Video anytime, anywhere."
However, some of the common features of iOS media apps are missing from the Amazon Instant Video app. For example, you can't buy or rent new videos or subscribe to the Prime service directly from the new app, and you can't search for available videos through it either. This is similar to the omission of in-app purchasing in the Kindle app for iOS, which forces users to launch the iPad browser to buy content. Amazon Instant Video for iOS, likewise, makes users order and purchase content for the app through the web browser. Also, sadly the app has disabled AirPlay veiwing support on devices still missing Amazon Instant Video, like the Apple TV.
The app is free for download in the iTunes store and compatible with any iPad running iOS 4.3 or later.
Amazon Instant Video clients are also available on Kindle Fire, PlayStation 3, Xbox 360, Roku set top box, as well as on Vizio, Samsung, Panasonic, LG, and Sony smart televisions and Blu-ray players.