Splashtop remote desktop launches on Windows 8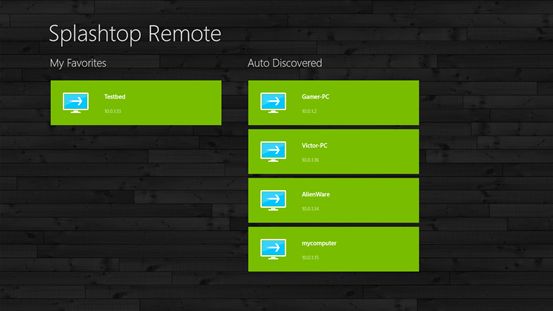 Even though the Windows Store is still only in Preview Mode, Splashtop Inc. on Thursday announced it had launched its flagship remote desktop client for Windows 8 there.
The popular Splashtop application lets users access their PC desktop from their mobile device, and with it, Windows 8 tablets will be able to connect to other Windows desktops and Mac OS desktops over Wi-Fi and 3G/4G data connections, with low enough graphical latency to enable remote gameplay and HD video streaming.
In this version, Windows 8 native gestures are supported, including drag-and-drop functionality, favorites, and the ability to swipe to reveal hidden menus. The main drawback in this version is that dynamic IP assignation isn't yet supported, and the desktop being remotely connected to needs a static IP.
The free Splashtop server app runs Windows 7, Vista, and XP (including Home Premium), and even on Windows 8 Release Preview, so users can actually connect two Windows 8 devices together. Mac users require OS X 10.6 and up.