Photobucket gets major redesign in new beta, apes Facebook with 'Stories'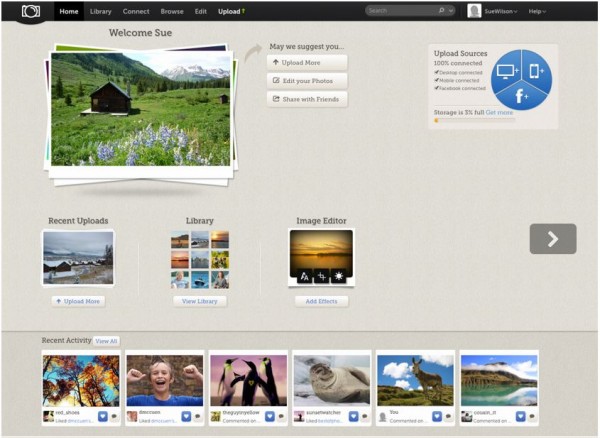 Long-running photography management site Photobucket on Thursday unveiled the beta version of its redesigned user experience, which gives the service more competitive footing against the Web's dominant --some would even say default-- photo-sharing site, Facebook.
How could it possibly compete with Facebook? Well, that's the thing. Photobucket obviously understands that it would be silly to even try to compete. So if you can't compete with Facebook, you hook your service into Facebook and add bonus features.
That's one of the main features of the new Photobucket, it hooks into your main content streams seamlessly. The new desktop photo uploader, paired with the site's social importer and mobile apps, pull photographs and video from wherever they're captured or uploaded, and consolidates them under the single Photobucket account without much effort.
And In the event that you decide to abandon Facebook and shut down your profile there, you can transfer every photo to your Photobucket account in about three clicks. That is also pretty effortless.
One area where Photobucket clearly outshines Facebook is in content privacy. On Facebook, photos generally have four settings (Visible to the public, to friends, to the user only, and to a custom list.) Photobucket has settings to keep people from copying your content, settings to permanently remove location information from photos automatically, and settings to scramble filenames so photo links cannot be guessed and navigated to despite being unlisted. Albums can also be password protected to provide an additional layer that keeps unwanted traffic out.
Then there's the newest feature, which doesn't roll out with this beta, but is instead available as a sneak peek, with launch expected in the fall. Photobucket calls it "Stories," but it is clearly influenced by Facebook's Timeline feature. It lets users to create, collaborate upon, and share visual narratives based upon photos, videos, and other content.
However, rather than being a single, overarching timeline of all content uploaded to the site, Photobucket Stories can be used to create small, enclosed vignettes that can be shared and, you guessed it, embedded on Facebook, or Twitter, or Pinterest, or whatever social network.
Since Photobucket already includes editing and filters in its web interface (something that Facebook only has within Instagram and not Facebook proper,) the addition of Stories will give Photobucket a complete package that Facebook does not yet have, one that lets users take photos, edit and filter them, and arrange them into narratives that can be seamlessly shared elsewhere. It's a strong position for the site to take.
The first 50 people to click through here can test the new Photobucket beta. If you can't get in, let us know, and we'll work it out for you.