Skype for Windows 8 launches October 26 and stays on during standby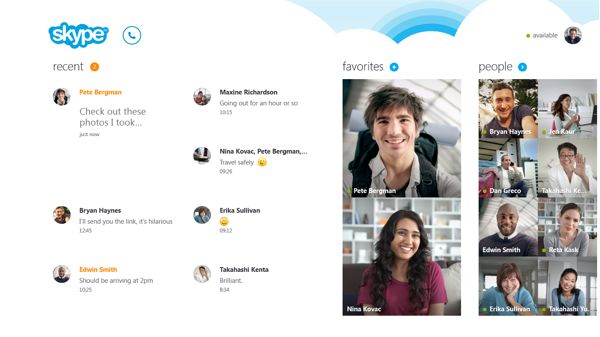 Microsoft's voice, video, and text chatting service Skype has revealed that the new Windows 8 version of Skype will be available on Windows 8 day one, October 26. The entire application has been crafted to follow the Windows 8 design ethic, with big touchable icons, a new dialer screen, a live tile on the homescreen that shows incoming messages and missed calls, and integration with the Windows 8 People app.
Prior to Skype's announcement today, there were plenty of hints that Skype would be getting a major Windows 8 upgrade, with mentions of "dual microphones tuned for Skype" and "hands-free Skype video chat" on Surface hardware pages, among others.
According to Skype, new Windows 8 machines will ship with Skype already installed, and Windows RT devices will have to download the new application from Microsoft Store or Skype's Windows 8 app page. The video embedded below also mentions that in Windows 8, Skype is always on, a key feature in the mobile aspect of Windows 8 and Windows RT devices.