Today is Windows 8 day across the globe, and it's a different world for Windows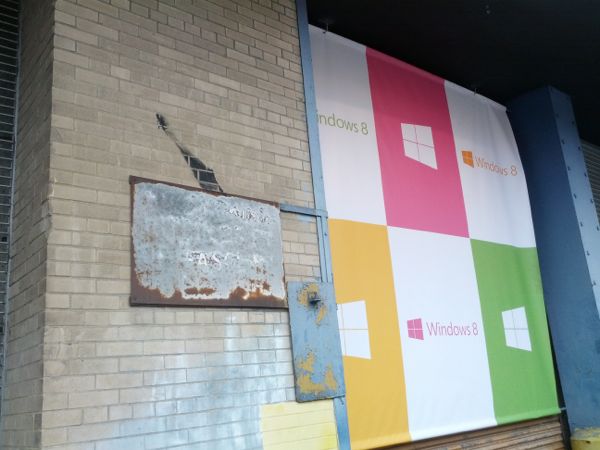 The disused Pier 57 pavilion in New York City's Meatpacking District served as a fitting backdrop for Microsoft's Windows 8 launch party yesterday. The ramshackle warehouse is currently only used as a location for big monthly events, and not for any daily purpose. The big blocks of color, and simple, attractive Windows 8 logos stood in stark contrast to the rough building itself. It was easy to see the entire event as a metaphor for the current state of the personal computer industry.
The entire PC market has been in decline across the board, and Windows revenue has fallen for the last two years according to three leading market research firms IHS iSuppli, Gartner, and IDC. Despite the unquestionable popularity of mobile devices, the PC is hardly less relevant or less valuable than it was. The more pressing problem has been the difficulty individuals and businesses have in justifying the purchase of a new machine in such low economic times.
The old and beaten-up Pier 57 is the global economy, with grit-smeared windows and cracked concrete floors. Yet Microsoft is forcing us to reconsider our PC spending because touch is so neatly incorporated into the Windows 8 experience. So it drapes the bare sheet metal walls with big, bold blocks of color, and invites us to touch, offering "a PC for every budget."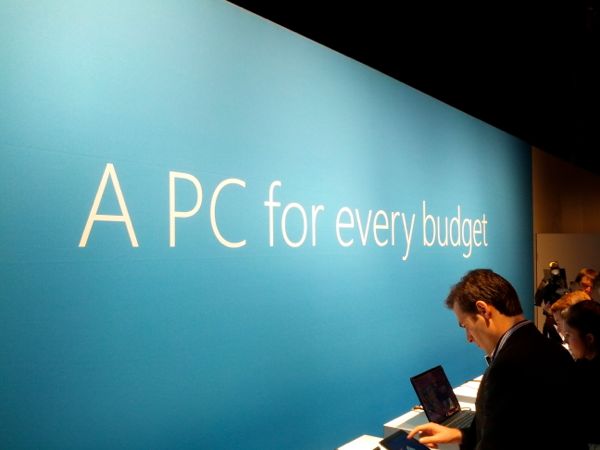 Unlike previous versions of Windows, touch interaction is no longer a niche usage case. Likewise, it is neither presented as a luxury nor a superfluity. It is simply a part of the OS, just like keyboard and mouse used to be; and in order for us to take advantage of it, we have to buy a new PC. We can upgrade our existent PCs to Windows 8, but new application development has already been steered toward touch.
By shifting the very design of Windows, developing markets ("Computing For the Next Billion People") and mature markets ("Windows Reimagined") alike will have to reconsider their current hardware situations, despite the present economic conditions. The touch experience on an adequate trackpad is almost as good as the touchscreen itself, but the traditional keyboard and mouse scenario has changed because Windows 8 begs to be touched.
Windows 8 is available today, both as an upgrade for PCs with processors 1GHz or faster; with at least 1GB of RAM for 32-bit systems or 2GB of RAM for 64-bit systems, 16GB of storage for 32-bit, and 20 GB of storage for 64-bit, and DirectX 9 graphics. New Windows 8 systems begin at $499.