Best Windows 8 apps this week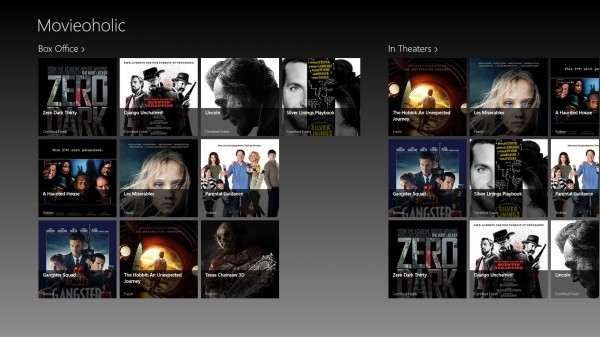 Twelfth in a series. It's slow week for new application releases for Windows 8. The number of new apps in the US Windows Store is 635, down from 961 the week before. While I would not - yet - say that this is a sign of things slowing down, it is definitely something that I'll pay attention on in the coming weeks.
The total number of apps in the US store this week is 25,384 of which 20,373 are free to install and 5,011 paid; that is a ratio of 4:1 in favor of free apps.
This app is all about movies -- that you can watch right now in theaters, that are opening this week or upcoming, as well as released on DVD or Blu-ray.
A click on a movie displays detailed information about it taken from Rotten Tomatoes. Here you also find trailers that have been posted on YouTube to get a first impression of what the movie is all about.
Movies can be added to a favorites section in the app so that you can keep track of those you are interested in easily. Another nice feature the app provides you with is to change the system's lock screen to a movie wallpaper.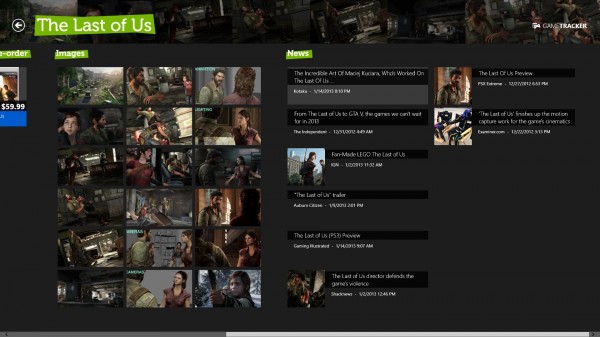 If you are into gaming you are probably anticipating new game releases all the time. Staying up to date with gaming related news is what Game Tracker is all about. The application provides you with options to monitor upcoming game releases as well as released games for all popular gaming platforms including PC, Xbox 360, Wii U and the Playstation 3. Note that handheld games are not covered by the application.
You can check out upcoming releases or games that have already been released. For each game you get an image and news section as well as important information about the developer and system.
Games can be added to the favorites, which makes it easier to keep tabs on them. The majority of games can only be found using the operating system's built-in search and not by browsing the categories the application makes available. It also seems to lack video contents, at least game trailers should have been included natively in my opinion.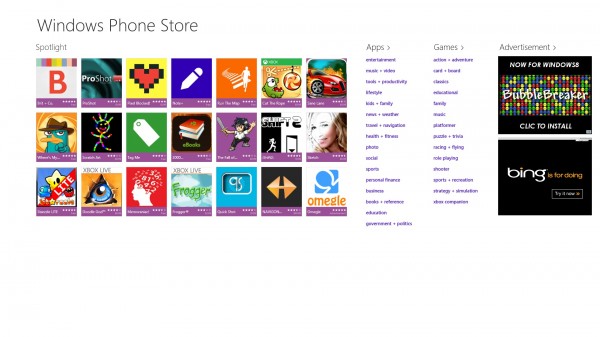 This is not an official Microsoft app but it may prove to be useful nevertheless. It provides you with access to the company's store for Windows Phone devices. You can browse and search for store apps using the program, read descriptions and reviews, look at screenshots and even install any app right from the interface.
The app uses a different layout than Microsoft's official Windows Phone store which is without doubt the only reason why you'd want to use the app.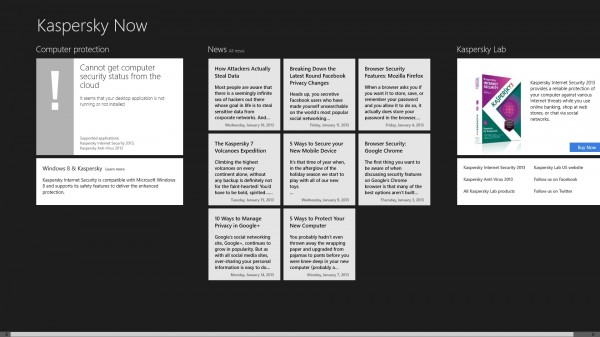 If you are a fan of Kaspersky security software you may want to take Now for a test drive. The application features security news and information about Kaspersky products, and can even display information from installed Kaspersky products in its interface (supported Internet Security 2013 and Anti-Virus 2013 only).
The security news may be interesting for other users as well but the overall look and feel of the application makes it look more like an ad for Kaspersky products than something that you really want to use to read those news. Plus, all news seem to come from the Kaspersky Labs blog that you can subscribe to in a feed reader as well.
You can find all you ever wanted to know about Star Wars in this application. What I particularly like is its picture and photo section that mixes screen captures from official movies with fan art and official Star Wars merchandise.
If that is not enough, you can also watch videos or play bits of audio. It is unfortunately not available for all characters or vehicles and the overall selection of information is rather weak at the time of writing. While you find popular Star Wars characters such as Luke, Han or Darth Vader listed, characters such as Bib Fortuna, Nien Nunb or the Rancor monster are not listed here yet.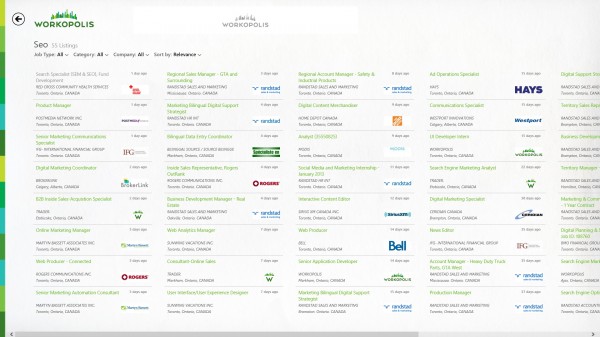 If you are looking to find jobs in Canada, Workopolis may be the app to assist you with that. All you have to do is enter a keyword, a job title for instance, and select a location to get started.
The app lists available job offers in the search results afterwards. Here you find the job title, company and location listed and get options to filter jobs by type, category or company.-
A click opens the detailed job description in an overlay on the screen for you to browse through.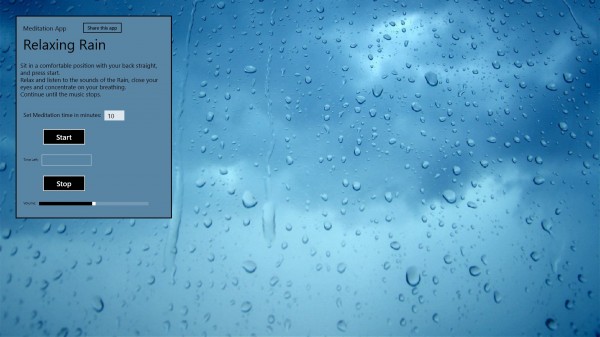 Relaxing Rain may be an ideal app for short breaks that you take when you work on your computer. It combines the sound of rain with soothing piano music, which you can listen to while taking a power nap.
What makes this app less usable than it should be is that it needs to be in the foreground at all times. While you can move it to the side to open other Windows apps on the remaining screen, it is limiting the usefulness of the app in my opinion.
A better option at least until that's resolved is to head over to YouTube to listen to hours of rain videos like this one.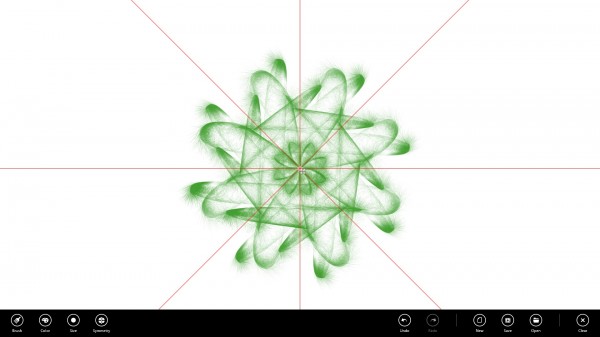 InspirARTion is a painting application for Windows 8 that makes available a selection of brushes, colors, sizes and symmetry effects (vertical, horizontal or Kaleidoscope). It is a fun app to try out, especially the symmetric feature is interesting to work with.
If you are talented you can use the app to create beautiful images, if you are as talented as I'm, you can still enjoy the features the app makes available even though you'd probably never show anything you create to anyone else.
Images you create can be saved to the local system as png files.
IM+ Pro ($4.99)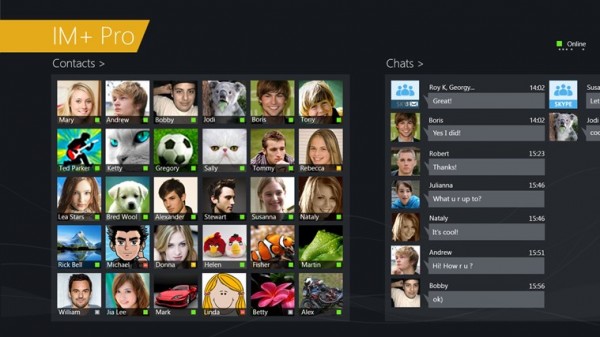 If you are having multiple social networking or instant messaging accounts you may find the idea of using one application to control them all appealing. IM+ Pro is not free but it supports all major instant messaging services including Skype, Facebook, Windows Live Messenger, ICQ, VKontakte Google Talk and AIM.
The app features text messaging and the sending of photos to contacts, as well as service related features such as group chat in Skype. You can add one or multiple accounts per service and customize the apps' appearance and notification settings.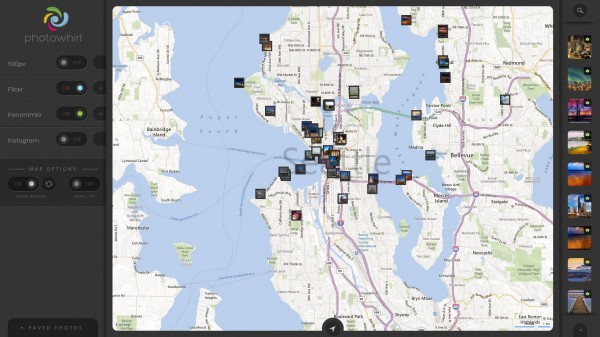 This is a geotagging application that displays the location photos were taken on a map. Photowhirl can display photos that were uploaded to 500px, Flickr, Panoramio or Instagram on the map. You can configure each service individually using controls at the top left.
Photos are displayed as thumbnails on the map and in a column on the right. A click on a photo opens it in a viewer giving you options to share it, add it to the favorites or open its source using the default system browser.