Best Windows 8 apps this week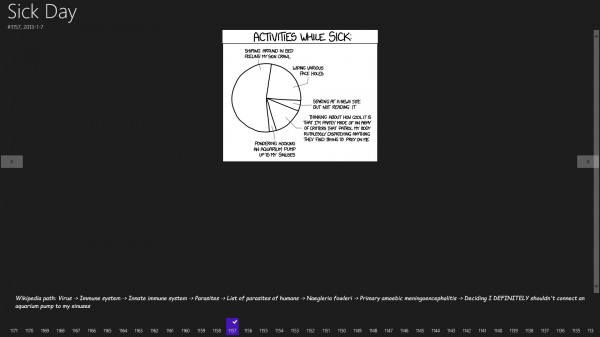 Fifteenth in a series. Several important applications received updates in the past seven days. Adobe updated its Reader application for Windows 8 and even changed the name of the application to Adobe Reader Touch. Microosft, too, released updates for several of its applications, including the Bing, which now includes video search results.
In another interesting turn of events, WinZip decided to remove the price tag from the company's Windows 8 app of the same name. The application, previously available for $7.99 is now available free.
The total application count in the US Windows 8 Store is 28,055 divided into 21,745 free apps and 6,310 paid applications. That's an increase of 537 free apps and 236 paid apps this week.
The increase is consistent and has not changed at all in recent weeks. Each week, about 800 to 1,000 new apps are listed in Windows Store.
XKCD webcomics are part of today's geek culture on the Internet. They get released regularly on schedule and are free to look at on the creator's website.
The application for Windows 8 provides you with access to all comics released -- and future ones -- that you can browse in full screen on a computer running Microsoft's operating system.
Probably the main advantage here is that you can browse comics faster than on the site. What's not so good is that the original sizes are displayed in the app so that you end up with lots of blank background texture when you use the app to read the comics.
You can switch between comics either with the left and right cursor keys, touch gestures or by clicking on the comic stream at the bottom of the interface.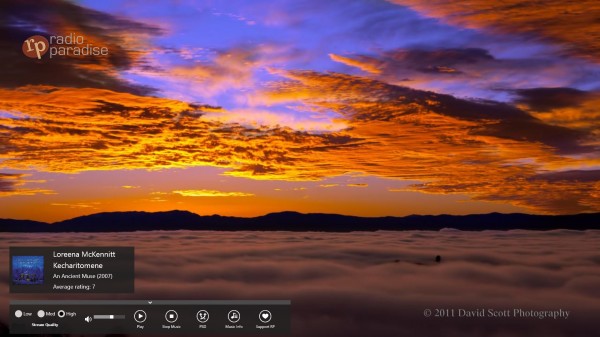 The Internet radio application offers an interesting selection of hand picked music mixes and background images that change every couple of seconds.
The application adds community interaction and lyrics to the music. You can open up the music info box to display user comments, leave a comment or rating of your own, and display the song lyrics. Here you also find links to buy the CD or MP3.
The quality of the music stream is set to high by default, which you can change to medium or low if you need the bandwidth for other activities. Note that the music continues to play in the background.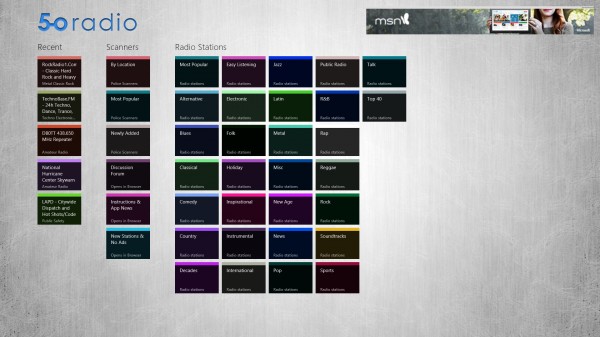 Provides you with access to police scanners and radio stations at the same time. You can browse scanners by location, all 50 US states are available here as well as scanners from countries such as Germany, Italy, Netherlands, Canada or Australia, by popularity or recency.
Depending on your selection, you may be taken to a list of places and cities in that state or country, browse a top list of scanners, or listen to countrywide stations.
The selection of radio stations is excellent as well. You can select a music genre you are interested in, Electronic, Country, Pop or Sports for example, and then the listing of radio stations filled in that category.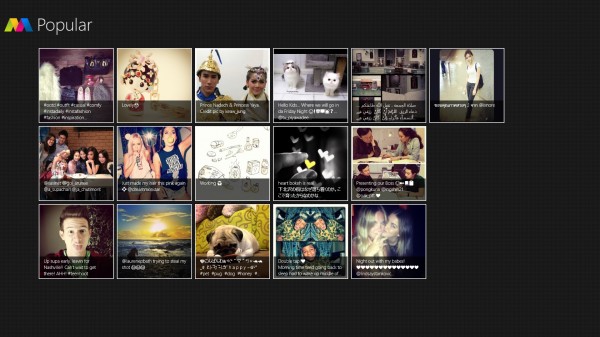 Another Instagram app for Windows 8 displays a selection of popular photos taken by members of the community on start. You do need to sign in to an Instagram account before you can use the remaining functionality the app makes available.
This includes searching for photos shared on the site, commenting or liking photos, browsing your user feed or pinning favorite photos to the start screen. You can furthermore view public profiles of any user, follow or unfollow users, or browse recent photos of a selected user.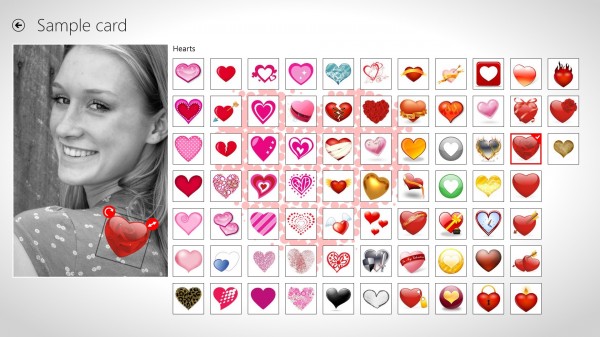 Valentine's Day is coming up and if you need a last minute card you may be interested in the Valentine's Card application for Windows 8. You can load a photo into the application or create one using a connected webcam or camera.
Once done you can add hearts, candy, stamps or other clipart that is usually associated with love or Valentine's Day to the card.
A right-click opens a toolbar menu that you can use to add text and additional clipart to the photo, crop, rename or flip it, and save it to the local system or share it directly using the sharing options of the operating system.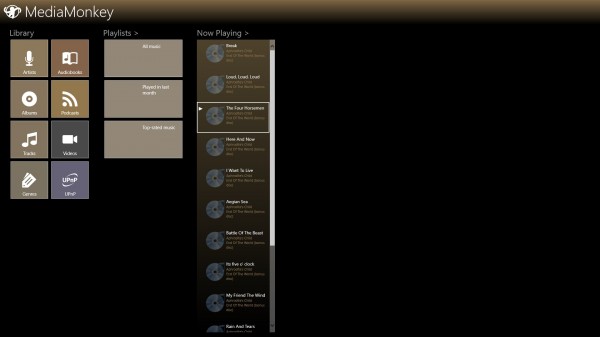 MediaMonkey is one of the best music management programs for the Windows operating system. The Windows 8 application is a standalone app that you can use to play music on the operating system.
You can sync the library with systems that run the desktop client. Wi-Fi syncing is available as an in-app purchase.
The app plays common music file types like mp3, m4a, ogg, flac or wma among others, comes with an equalizer and options to navigate the music collection by artist, album, genre or playlist.
Di.fm (no link yet)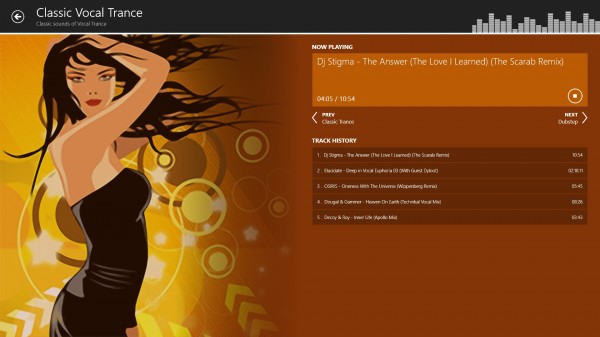 This is the official Digitally Import app for Windows 8. If you like electronic music, Di.fm is the app to get your fix. You can browse the available radio stations on the front page and tune into one right away with a single click.
The application looks fantastic and is without doubt one of the best looking apps for Windows 8 right now. You can favorite stations to access them faster and keep on listening to music after you switch to another application or the desktop.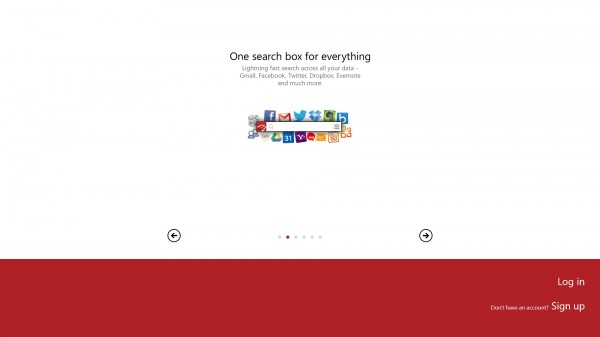 CloudMagic makes available a single search box to search across multiple web accounts and services. If you connect the accounts, you can search Twitter, Gmail, Google Docs, Office 365, Exchange, Facebook, Dropbox or Evernote at the same time from a single search form the app makes available.
You do not necessarily have to use the application for this as you can also use browser extensions for Chrome, Firefox or Safari for similar functionality.
Skulls of the Shogun ($9.99, trial available)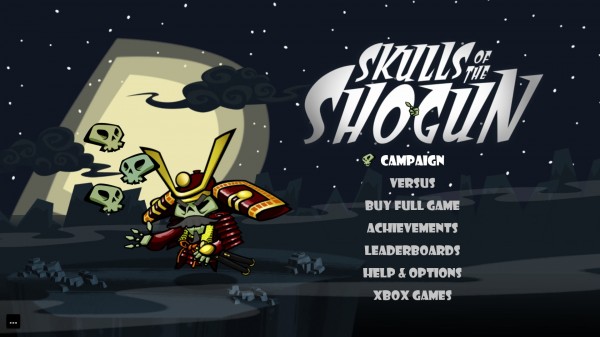 While I do not cover games usually here each week I would like to make an exception for this game as it not only has received an incredible amount of positive ratings since its release a couple of days ago (more than 263 and counting) but is also one of the first high quality games released for Windows 8.
The ratings are even more impressive if you consider that the game is not free but costs $9.99.
It is a turn based strategy game that gives you control of samurai units to defeat enemy units you encounter in story driven levels. The game features a single player campaign and asynchronous multiplayer to play against human players that play the game on their Xbox 360 or Windows Phone.