Microsoft releases SkyDrive 3 for iOS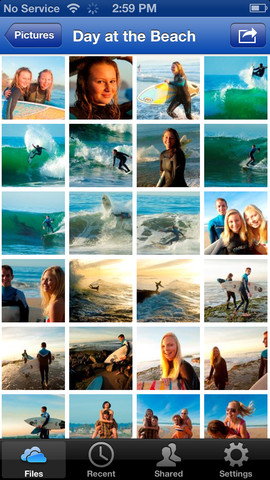 There's certainly no shortage of cloud storage services to choose from these days and Microsoft's SkyDrive provides a fairly generous 7GB of space free of charge. The latest version of the iOS app sees compatibility extending to include not only the iPhone 5, but also the iPad Mini, and there are also a few new features to explore.
The latest release comes after Apple blocked updates to the app following Microsoft's launch of a subscription model. This could be one of the reasons that it is now not possible to sign up for a SkyDrive account from within the SkyDrive app -- if you have an account already you'll be able to sign in straight away, but if you need to create one, you will have to head over to the website to do so.
Perhaps the most obvious change, although by no means the largest, is the new icon sported by the app. This new look continues through the UI, with a darker, cleaner feel now replacing the slightly dated look of the previous version.
There have been improvements made throughout the SkyDrive app which mean that there is now better support for not only opening the files you have stored online in different apps you may have installed, but also better support for saving files from apps to SkyDrive.
Other changes mean that full resolution photos can be downloaded and there is the usual selection of bug fixes.
If you have an iPhone or an iPad, you can download a free copy of the SkyDrive app and take advantage of Microsoft's cloud storage service.