Best Windows 8 apps this week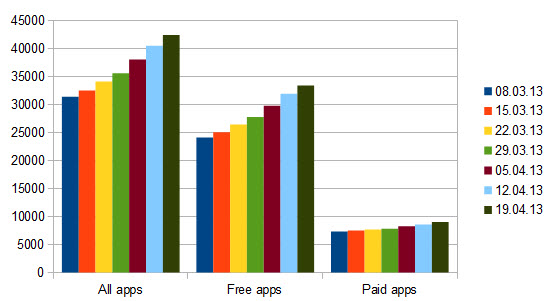 Twenty-fifth in a series. The increase of new apps slowed down a little bit, falling under the 2,000 apps per week mark that was passed in the last three weeks. A total of 1,928 new apps found their way into the store this week. The total number of apps in the U.S. store is now 42,478, made up of 33,430 free apps and 9,048 paid ones. Free apps increased by 1,447 this week and paid ones by 481.
The core Bing apps received updates a couple of days ago. I won't rehash all that we previously reporting, only this much: Bing News supports custom RSS feeds now that you can add to the app so that you can add your own news sources to it. News also supports keyword-based news that you can add easily to the application.
The location and real-time features of the Maps app are improved as well, which helps you find local stores, restaurants and other services in a faster fashion. Maps users benefit from the integration of walking and transit information as well for select locations.
The Travel app features new contents from popular sources such as Lonely Planet and Fodors. It offers a new local feature as well that you can make use of to find local attractions and points of interest near your current location.
The Finance app features a couple of new tools that may help you calculate mortgages, plan your retirement or convert currencies.
The Sports app, last but not least, received new local contents including football (that is soccer for you in the United States) league data and information from Europe and South America as well as information about football World Cup Qualifiers.
In other news: the popular app YouTube RT is currently available free of charge instead of the €2.49 that you pay for it regularly. The promotion runs until April 24 so make sure you download and install it before then if you are interested in its functionality.
App of the week
None this week. None stuck out.
Other apps
Sim Trader ($2.99, trial available)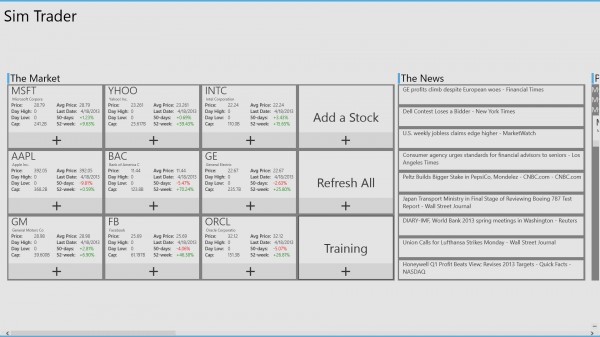 If you are interested in the stock market but do not really want to invest your money, you can use Sim Trader to invest using virtual money. The app, or game, gives you $10,000 in starting cash that you can invest in the stock market. It uses real quotes from Yahoo Finance and news from finance related websites to make the experience as realistic as it can be.
The front page lists a custom selection of stocks that you can use as a monitoring tool and to purchase or sell shares. On the right are news that may help you make decisions, information about your portfolio, and a chat where users of the application can chat anonymously.
The app has more to offer than that though. You earn achievements for certain completed tasks, like "supporting the OS giant" when you buy 100 or more Microsoft shares, take automatically part in the leaderboard that is sorted by the amount of money in cash and in assets, and can read tutorials to understand how the stock market and trading works.
Deezer (not available in the United States)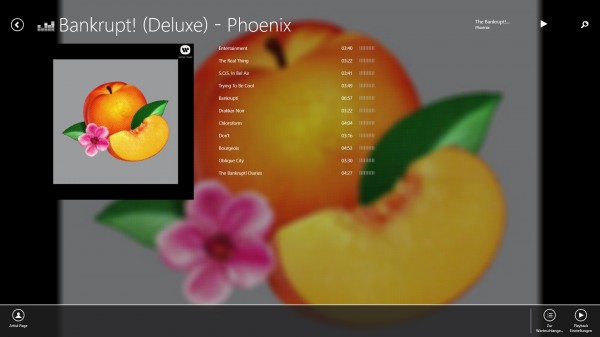 The music app launched in several countries this week (but not in the United States). It provides you with an experience that is similar to Spotify or Nokia Music. Unregistered users get access to the whole music database but songs are automatically limited to 30 seconds.
A Deezer account is required for the full listening experience. A free account provides users with 12 months of unlimited listening, after which it gets reduced to 2 hours per month. Premium and Premium+ accounts are available for €4.99 and €9.99 per month, which remove the advertisement that is sometimes played and offer a better listening experience.
On a side note: if you want to check out the offerings of a different Windows Store, you need to change the home location in the Windows Control Panel to do that.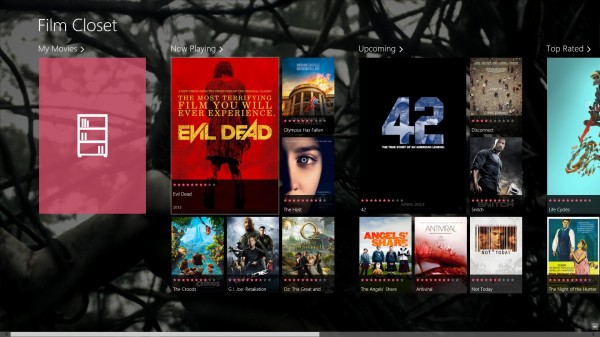 The movie application for Windows 8 serves two purposes. It displays information about current and upcoming movies, including information about the cast, plot, release date and trailers (linking to YouTube exclusive using the default system browser and not the app itself).
You can furthermore point it to any local folder with movies to add your movie collection to the app as well. Local movies are identified by their file name and folder structure, so that you may need to alter the names to have them identified correctly by the application. There is however no need to add local movies to the app if you only want to use it to retrieve movie information and watch trailers.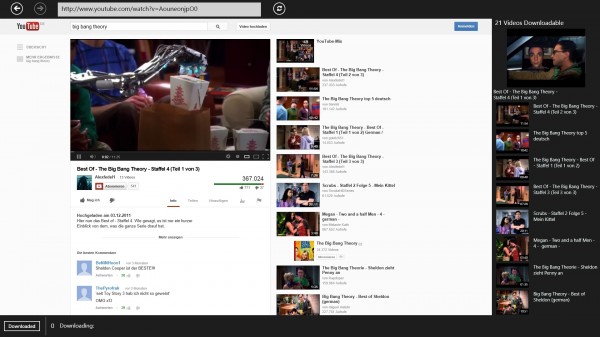 The app may look like any other YouTube viewing app for Windows 8 on first glance, but it is packed with a couple of interesting capabilities. The feature that sets is apart is the one-click download option that it adds to any page on YouTube.
The application displays a list of downloadable videos on the right that you just need to click on to download to the local system. Basically, all videos found on the page - the main video that can be played and the list of related videos on the right, are displayed on the right sidebar.
Onboard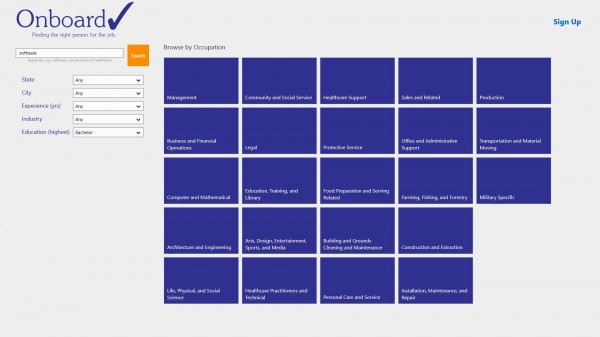 Onboard is a job search application for Windows 8. You can enter a keyword that you are interested in and make a couple of modifications before you hit the search button. This includes limiting results to a state or city, industry, as well as experience and education.
You can furthermore limit the search by occupation, e.g. management, legal or computer & mathematical to only get results based on your selection. The application is limited to the US, with no option to search for jobs in other countries.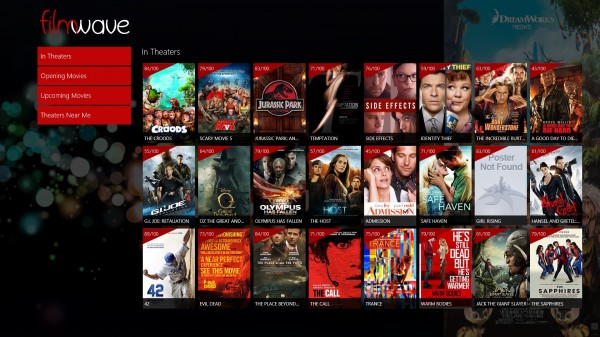 The movie app displays current and upcoming movies in the interface. Each movie is depicted with a cover, name and rating, and a click opens a page with lots of details about the selected movie.
Here you can access general information about the movie, like the synopsis, information about the cast and crew, reviews, chatter on social media about the film and a list of similar or related movies that may be of interest to you. Trailers are available but link once again to YouTube where they can be watched. You can add your reviews to movies and also mark them as watched.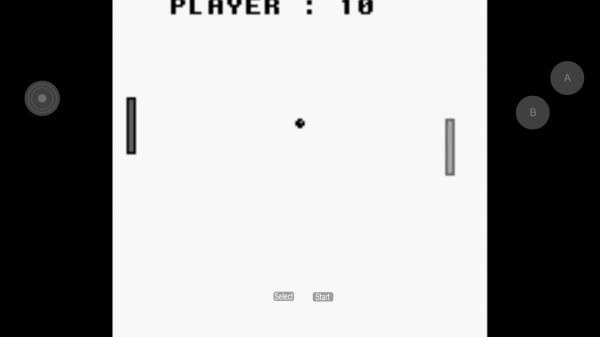 This emulator enables you to run Gameboy and Gameboy Color games, apps and demos on Windows 8. The emulator supports all kinds of ROMs including homebrew roms, and ships with a basic version of Pong that you can load right into the app after installation to test out its functionality.
If you have a XBOX 360 controller you can connect it to the PC, laptop or tablet to use it to play games or control apps on the screen. The emulator supports touch input and keyboard / mouse input as well. Note that it does not emulate GBA or Nintendo DS  devices.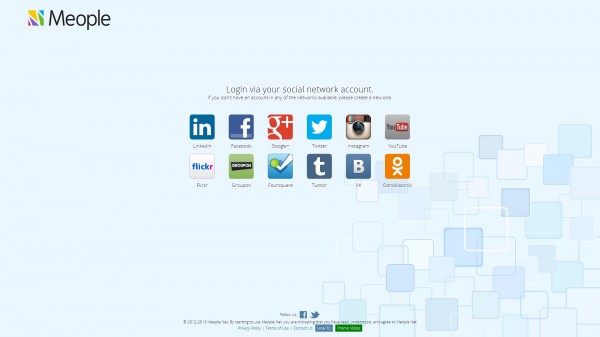 The basic idea behind Meople is to combine information and data from all social networking sites that you are a member of in one interface. So, instead of having to visit Facebook, Twitter, Google+, Tumblr or Instagram regularly to find out what is new, you can do all of that from a single app.
The app seems a 1:1 copy of the website of the service. You need to log in to at least one of the 12 social networking sites the service supports right now to get started. Each social networking site is represented by its own coloumn that you can check out individually but on the same page at the same time.
The app ships with several features that make life easier, like highlighting unread threads or messages, options to invite users to contact you or send messages or options to post a message or update to all networks you are currently signed in to.