Apple announces takeback program for dodgy iOS power adapters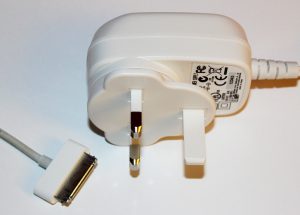 Ahead of its August 16 launch, Apple reveals details of a takeback program that aims to replace third-party power adapters with authentic units. Concern over the safety of third-party and counterfeit adapters for iPhones, iPads and iPods prompted the scheme, and Apple says any adapters handed in will be "disposed of in an environmentally friendly way".
So what's the incentive for just giving your current adapter to Apple? Well aside from that warm, fluffy feeling that comes from knowing that you're helping to do your little bit for the environment rather than just adding to landfill, Apple has another carrot to dangle.
Don't get your hopes up -- Apple is not going to be offering free replacements. But the program will enable anyone who is interested in getting hold of a genuine power adapter to do so for the reduced price of $10 (or the worldwide equivalent).
No safety testing is offered, so if you have a third-party adapter you have concerns about, the program will not enable you to find out if it is dangerous. Rather you get to hand over your old adaptor and buy a shiny, new genuine one for a discounted price.
Users are limited to one adapter per iOS device, and the program runs until October 18, 2013. You'll need to take your power adapter and iPhone, iPad, or iPod to an Apple Retail Store or participating Apple Authorized Service Provider.
Full details and links to find your closest stores, can be found at the announcement page.
Photo Credit: Wayne Williams