Windows Phone App Studio beta makes a developer of everyone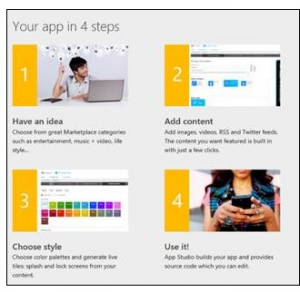 The app market is crazily busy. With so many thousands of apps to choose from, a developer looking to get noticed needs to come up with something pretty special. But the people with the best ideas aren't necessarily those with coding skills, and funds available to individuals and startups are usually limited. The solution? Make app development as easy as possible. Enter Windows Phone App Studio.
The online service is a new beta tool that can be used to create Windows Phone apps in a few simple steps. The idea is to keep things as simple as possible so even new developers should be able to create an app fairly quickly. No coding knowledge is required as this is all taken care of automatically. There are a number of templates available into which content such as text, video and RSS feeds can be dropped.
Windows Phone App Studio beta is available to anyone who wants to try it out, not just old hands at the game. The simplified registration process means that anyone and everyone is free to sign up for an account, register a phone to use as a test platform and work with up to two apps. Microsoft is touting the tool as not only a means for new developers to get started in the world of app creation, but also as a way for more seasoned coders to create prototypes very rapidly.
The Windows Phone Developer Blog also announces a new "Click to Chat" feature for registered developers, as well as the addition of Costa Rica, Cyprus, Kazakhstan, Lebanon, Malta, and Trinidad and Tobago as supported markets.
Fancy the idea of getting into the Windows Phone App Studio beta website? Now is your chance to get creative and publish the next big thing.