Samsung Galaxy Note 3: new 5.7-inch monster phone packs a punch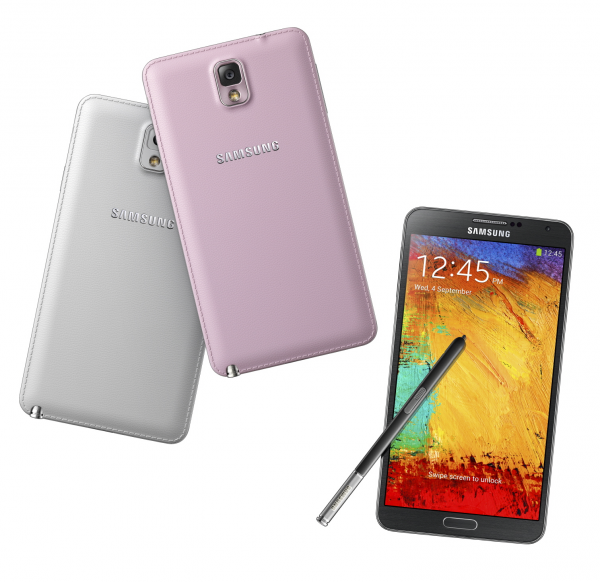 At IFA in Berlin, Samsung takes the lid off its giant screened smartphone -- the Galaxy Note 3. It use to be the case that as technology developed, devices became smaller -- colossal Walkmans were replaced by more svelte models, chunky Discmans by portable players barely bigger than the disc they were playing. There was a time when the fashion for cell phones took a similar route, but the current propensity for larger screens shows that this no longer rings true.
Samsung's Note range has long taken the idea of a large screened smartphone to the extreme, but the third generation pushes things even further. Equipped with a whopping 5.7 inch screen, the third iteration of the phone is thinner than its predecessor at just 8.3 millimeters, and also lighter at a mere 168g. The Super AMOLED display, boasting a resolution of 1920 x 1080 risks being something of a power sucker, but it's backed up by a 3,200mAh battery.
With an impressive 3GB of RAM and a 2.3Ghz quad-core processor (in the 4G version) or 1.9GHz Octa Core (in the 3G edition), speed is not an issue. The 32GB or 64GB of internal storage is expandable through the MicroSDXC card slot, which might well be needed considering the 13 megapixel rear camera (complete with 4k video recording) and 2 megapixel front facer.
The Note 3 will be available in three colors -- black, white and pink -- and at launch there will also be dozens of colored covers available. These smart covers feature an aperture which reveals a portion of the screen so you can keep an eye on the time and app notifications. The phone -- or phablet as such large devices have been sickenly dubbed -- has a soft-feel back and boasts an updated S Pen. The last version of the stylus includes support for a range of new gestures and navigation options.
As you would expect with a new release, the Note 3 runs Android 4.3. The launch date is set for September 25 in more than 140 countries, although the US launch is slightly later, in October.