AT&T causes offense with 9/11 Twin Towers ad for BlackBerry Z10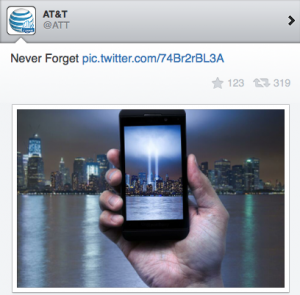 AT&T finds itself on the receiving end of an internet backlash after tweeting an advertisement for the BlackBerry Z10 that used 9/11 imagery. On the anniversary of the tragedy that saw the Twin Towers fall, the US phone giant posted the ad on Twitter -- the tweet has since been removed -- which featured the Tribute in Light memorial under the heading Never Forget. A similar post was also made on Facebook -- this has too been removed.
The ill-advised marketing move has backfired however. The company's Twitter feed is now filled with vitriolic responses from those sickened by the imagery. Search Twitter for AT&T and there are tweets from thousands of users who can only be described as being seriously pissed and deeply offended. On the BetaNews team, New Yorker Brian said that it was horrible and that he hated it.
The original tweet, after being removed, was followed a few hours later by a tweeted apology. This time AT&T's words had a rather different tone to them: "we apologize to anyone who felt our post was in poor taste. The image was solely meant to pay respect to those affected by the 9/11 tragedy".
Both #NeverForget and #september11 were trending topics throughout the day, and many have berated AT&T's advert as being in poor taste. The cell provider is far from being the only company to make reference to 9/11 today (there have been countless tweets of memorial from many big names), but it is one of a very small number who had the gall to try to profit from the tragedy by using it in advertising.