Amazon finally shipping seven-inch Kindle Fire HDX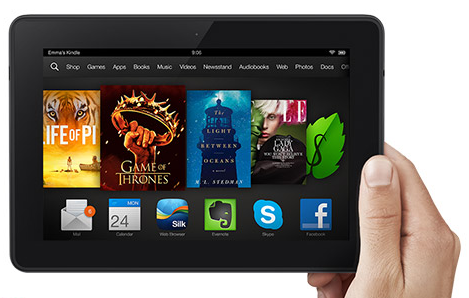 It has been almost a month since Amazon unveiled its Kindle Fire HDX tablets and began thrusting them in consumer's faces via its homepage. While its been long enough for this tablet model to seem the new norm, Amazon was not actually shipping the devices, but that changes now.
The seven-inch Amazon Kidle Fire HDX begins shipping today, coming along with the latest version of Fire OS 3.0, known as "Mojito". Amazon promises "a beautiful 323 ppi perfect-color HDX display, 3x the processing power, 2x the memory, 4x the graphics performance, and Fire OS 3.0, we think customers are going to love the new Kindle Fire HDX", according to Peter Larsen, Vice President of Amazon Kindle.
The tablet also features a new "mayday" button that Amazon claims will bring quick help to the novice user. "Simply tap the Mayday button in Quick Settings, and an Amazon expert will appear on your Fire HDX and can co-pilot you through any feature by drawing on your screen, walking you through how to do something yourself, or doing it for you", the retail giant says. Going further with this concept, Amazon is claiming a response time of less than 15 seconds and 24/7 staffing to handle the potential load.
If you haven't pre-ordered then you can expect a bit of a wait for the 16 GB model, as it's now listed as "in stock October 25", but 32 and 64 GB models are ready to ship now. If you are waiting for the 8.9-inch version then mark November 7 on your calendar. Is it time to replace my Kindle Fire HD?