Evernote for Android 5.5 tweaks notebook picker, adds Premium-only features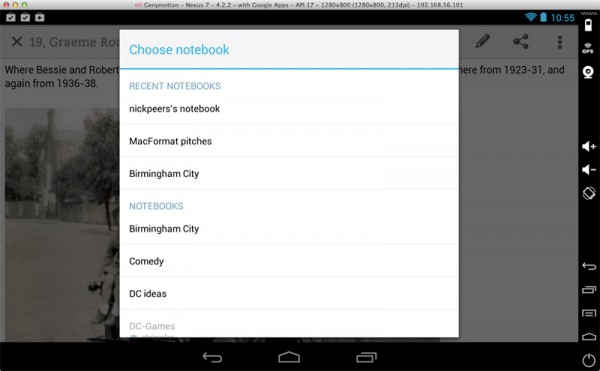 Evernote Corporation has released Evernote for Android 5.5, a major update to the mobile client for accessing its online note-taking service, which users can access through the browser or via a range of dedicated apps.
Version 5.5 ships with improved notebook picker and Page Camera tools for all users, while premium users gain the ability to annotate PDFs from within the app as well as customise the homescreen.
The most visible new feature is apparent when moving notes from one notebook to another using the notebook picker -- to speed things up, a Recent Notebooks list was added to the top of the screen to speed up navigation.
Also improved is Evernote for Android's Page Camera feature. The feature makes it easy to digitize photos of physical note pages and, despite being optimized for use with Moleskine's dedicated Evernote Notebook product, it will work with any physical notes. Version 5.5 promises improved speed and accuracy using the tool.
Other major changes are restricted to those holding an Evernote Premium account. First, annotation features involving marking up PDFs have been incorporated from the companion Skitch for Android app, allowing premium users to add shapes and text to PDFs attached to notes from within Evernote itself.
The second premium-only feature gives users the opportunity to choose whether or not to display specific items like the Market from the main screen -- other customization options, such as Places or Explore Evernote, can already be hidden on demand by all users.
The update is rounded off with the usual non-specified stability and performance improvements. Evernote for Android 5.5 is available now as a free download for Android users. Also available are Evernote 5.0.2 for Windows desktop, Evernote Touch 2.0 for Windows 8, Evernote for Mac 5.2.1, and Evernote for iPhone & iPad 7.0.