Verizon offers trade-in, gift card deals for Nokia Lumia 2520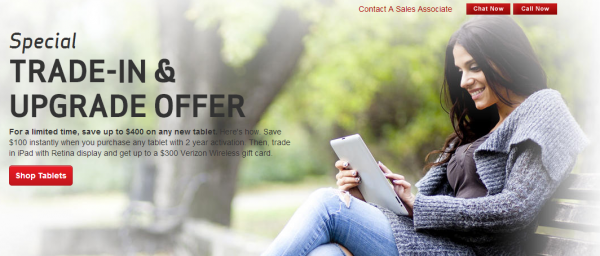 November 22 is a big day for Microsoft, with the Xbox One officially hitting store shelves, and Nokia releasing its latest devices, including an extra-large smartphone and a new Windows RT 8.1 tablet. The latter, known as the Lumia 2520, is being offered by Verizon for $399 with a two-year contract or $499 on a month-to-month deal.
While the price seems reasonable, at least in the realm of Windows tablets, Verizon is sweetening the deal with an offer for your old tablet. It's a deal similar to what Microsoft has offered as bribery in the past -- "trade in your current iPad in good working condition and receive a Verizon Wireless gift card up to $300. See how much your iPad is worth".
Don't dig out your Nexus 7, or anything that doesn't hail from Cupertino, Calif. Verizon is looking for iPads only, and trade-in values start at $100 for the iPad 2, while third-generation versions of the tablet, along with the first-gen mini, will net you $200, and the newer Retina display model puts $300 in your wallet.
There is the usual array of small print to pay attention to -- you'll need to purchase the two-year contract Lumia 2520, you will receive an activation code that must be used at trade-in (within five days of purchase) and the money comes in the form of a gift card. "Once we receive your device in good working condition, we will send you a Verizon Wireless gift card via email".
Still, if you were planning this purchase anyway, its a nice deal. But only if you also just happen to have a rival device laying around that you are able to pry out of a family member's hands.