Canonical announces developer preview of Ubuntu and Android dual-boot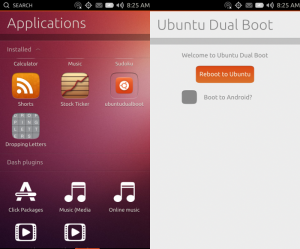 Android is Linux; it utilizes Linus Torvald's kernel. However, for many, it is looked at as a bastardization of Linux -- not a true distribution. I get that; after all, Google's own Android apps are closed-sourced and many of the devices have locked bootloaders. These hindrances, whether the fault of Android or not, are not exactly in the spirit of the free and open Linux community.
Many users crave more -- to have a full-fledged Linux distribution on their mobile device. And so, Canonical, owner of one of the most popular distributions, Ubuntu has been trying to answer the prayers of those dissatisfied with Android, with Ubuntu Touch. While the software has been promising, it is not yet ready to replace Android. Today, Canonical announces an interim solution -- the Ubuntu and Android dual boot developer preview.
"Dual boot is not a feature suitable for regular users. It is recommended to be installed only by developers who are comfortable with flashing devices and with their partition layout. Dual boot rewrites the Android recovery partition and those installing it should be intimately familiar with re-flashing it in case something goes wrong", says Canonical.
The company further states, "switching between OSs had never been easier. No more key combinations or command line interfaces to jump into the next OS: on each side, an app with a simple user interface will enable you to boot back and forth at the tap of a button".
In other words, the user can have Ubuntu and Android installed at the same time. While the actual dual boot switching is easy as pie, the flashing (installing) is not for the faint of heart. However, despite Canonical's urges for this to be a developer-only affair, Ubuntu-enthusiasts will likely try it anyway.
Before you get too excited, please be sure you meet the requirements. You must have a Nexus 4 running Android 4.2 or higher. Also, your bootloader must be unlocked, with USB-debugging enabled. Canonical says that this may work on other Nexus devices too, but it is untested.
If you are one of the aforementioned enthusiasts, you can try it here. Let me know how it goes in the comments.