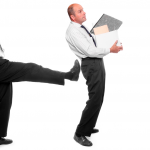 4MLinux 44.0 series has just marked a significant milestone by achieving stable status. This new release packs a powerful suite of applications and functionalities, aiming to enhance both productivity and entertainment for its users.
At the core of document editing and office tasks, 4MLinux 44.0 offers LibreOffice 7.6.3 and GNOME Office, including AbiWord 3.0.5, GIMP 2.10.34, and Gnumeric 1.12.55. These applications provide a comprehensive and efficient environment for handling a wide range of document formats and creative tasks.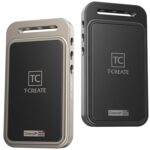 Today, TEAMGROUP unveils the T-CREATE CinemaPr P31 Portable External SSD. What sets the CinemaPr P31 apart is its innovative design that allows it to be mounted to DSLR cameras. It includes unique 12 1/4" screw holes, complete with a bundled screw set compatible with all standard 1/4" screw hole cages. The ability to mount the SSD in multiple directions makes it incredibly adaptable to various shooting environments. Plus, its compact size and light weight of just 110g make it an effortless addition to any photographer or videographer's toolkit.
But the T-CREATE CinemaPr P31 is more than just an elegant piece of hardware. Its promises respectable performance, supporting high-speed data transfer over a USB Type-C interface, which is essential for professionals working with 6K or 8K resolutions. The storage capacity is impressive too, offering up to 4TB of space. That's enough to hold around 960 minutes of 4K 60 fps video.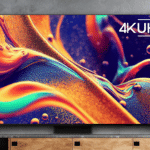 I'm a huge New York Jets fan, even though they suck this year (ok, they are terrible most years). While I will always watch and root for that football team, being their fan is anything but fun. The Jets seem to be a cursed franchise, full of disappointment and sadness. Hell, Aaron Rodgers tore his ACL after a mere four plays for the team. You can't make this stuff up, folks.
This year, the New York Jets played the Miami Dolphins in the inaugural NFL Black Friday (the day after Thanksgiving) game. In that matchup, there was a 99-yard interception return by Miami's Jevon Holland. It was a huge embarrassment for The Jets, and the subsequent loss pretty much ended their (slim) playoff hopes.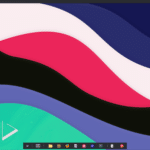 The Linux community is sure to be abuzz with excitement today as Nitrux 3.2.0 "af" makes its debut. The heart of Nitrux 3.2.0 is its Linux 6.6.2-1 (Liquorix) base, offering a stable yet cutting-edge platform. While upgrading from version 3.1.0 is streamlined, new users are encouraged to start fresh with the latest installation media for optimal performance.
Significant updates have been made across the board. The web browsing experience is elevated with Firefox updating to version 120.0. KDE Gear, enhancing the KDE desktop environment, now sits at version 23.08.3. A major overhaul in the Calamares installer introduces a strict password quality check to enhance security, requiring a mix of uppercase, lowercase, numbers, and symbols in passwords.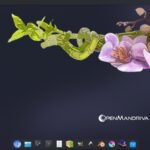 Christmas is still a month away, but Santa Claus has come a bit early to the Linux community. You see, the eagerly anticipated OpenMandriva Lx 5.0 can be downloaded here! This version marks a significant milestone for the independent, community-driven distribution, offering users a very refined experience. Notably, it is expected to be the final major iteration to feature the Plasma 5 desktop.
The new version uses the stable and efficient kernel 6.6 LTS, offering an option for the adventurous to try kernel-desktop-6.6.2 - 6.7.0-rc2. It's a package-rich release, boasting Mesa 23.3.0-rc4, Qt 5.15.11 with KDE patches and the newer 6.6.0, KDE Frameworks 5.112, KDE Gear 23.08.3, and Plasma 5.27.9.1. Productivity users will appreciate the inclusion of LibreOffice 7.6.3, among other current open-source software offerings.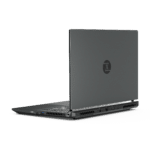 TUXEDO Computers is sure to excite many with its latest offering -- the Sirius 16. Named after the brightest star in the night sky, Sirius, this gaming laptop is powered by the efficient AMD Ryzen 7 7840HS processor and the potent AMD Radeon RX 7600M XT GPU. Notably, the Sirius 16 is TUXEDO's first all-AMD (both CPU and GPU) Linux gaming notebook.
As with all TUXEDO notebooks, the Sirius 16 comes with comprehensive Linux support. This includes pre-installed drivers, in-house developed software packages, cloud services, and TUXEDO OS (with options for other Ubuntu variants). Windows 11 is an available option too.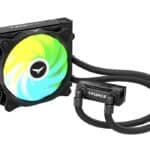 If you are the type of person that likes maximizing the potential of their solid state drives, then I have some very exciting news. You see, TEAMGROUP has announced the T-FORCE SIREN GD120S AIO Cooler, an all-in-one liquid cooling solution specifically designed for PCIe 2280 SSDs. Tests have shown that the SIREN GD120 can maintain PCIe 5.0 SSDs at temperatures below 54°C even under heavy loads!
The T-FORCE SIREN GD120S AIO SSD Cooler features aluminum alloy dual-tube water blocks with double-layered thermal pads, ensuring a tight connection between the SSD controller chip and IC to the cooler's copper base. The cooler's pump incorporates a ceramic shaft design and operates with three silent motors, delivering quiet, efficient, and reliable liquid cooling. Additionally, the product includes a 120mm radiator with 13 high-density aluminum fins, significantly enhancing its ability to dissipate heat from M.2 PCIe 5.0 SSDs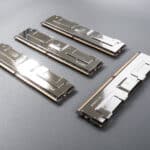 v-color Technology has announced its newest DDR5 R-DIMMs, designed to be compatible with AMD TRX50 motherboards. These new memory products are aimed at users of AMD Ryzen Threadripper 7000 series processors, offering enhanced memory performance.
These DDR5 memory modules from v-color are available in various capacities, from 64GB (16GBx4) to 128GB (32GBx4), with the highest available speed reaching 7200MHz. This range is tailored to meet the demands of various high-performance computing applications.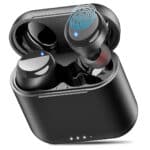 TOZO has launched its latest product, the T6 2.0 wireless headphones. This new second generation of the popular headphones have several technological enhancements. Best of all, these headphones are shockingly affordable thanks to an early Black Friday discount for Amazon Prime Members.
One of the notable improvements in the TOZO T6 2.0 is its IPX8 water resistance, which ensures durability in a variety of conditions, including exposure to water. This feature is particularly beneficial for users who lead active lifestyles. Additionally, the headphones have been designed to be lightweight, aiming to provide comfort for extended periods of use.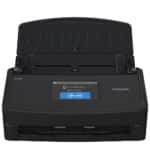 PFU America today launches the ScanSnap iX1600 Chromebook Edition scanner. This product is significant for being compatible with the Google ChromeOS operating system -- a platform increasingly favored in the business world.
A key feature of the iX1600 Chromebook Edition is its integration with the enhanced ScanSnap Home mobile app. This all-in-one app is a allows users to effortlessly manage, edit, and use scanned data, ranging from documents and business cards to photos and receipts.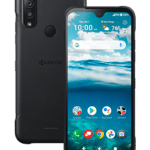 Kyocera, in partnership with UScellular, has launched an unlocked version of the rugged DuraSport 5G. It is being offered free of charge, starting today, to both new and current customers during the holiday season. This MIL-STD-810H certified Android 13 phone combines robust durability with a sleek, slim form factor.
The DuraSport 5G is engineered to withstand the rigors of extreme environments. It can endure drops, dirt, and water immersion, and is even designed to withstand various elements, making it a perfect companion for outdoor adventures or challenging work conditions. This resilience also extends to its capability to be washed and sanitized, ensuring the device remains clean and hygienic after exposure to outdoor elements or daily grime.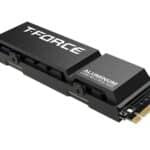 TEAMGROUP's gaming brand, T-FORCE, has launched four new solid state drives for PC and PS5: the T-FORCE G70, G70 PRO, G50, and G50 PRO. Each of these models utilize the PCIe Gen 4x4 interface and an InnoGrit controller.
All four SSDs are available in the M.2 2280 form factor and are equipped with T-FORCE's ultra-thin graphene heat sinks. These heat sinks are specifically designed to handle the thermal demands of high-speed gaming SSDs while maintaining a slim profile. The G70 PRO model goes a step further, offering an aluminum alloy heatsink as an additional cooling option.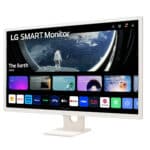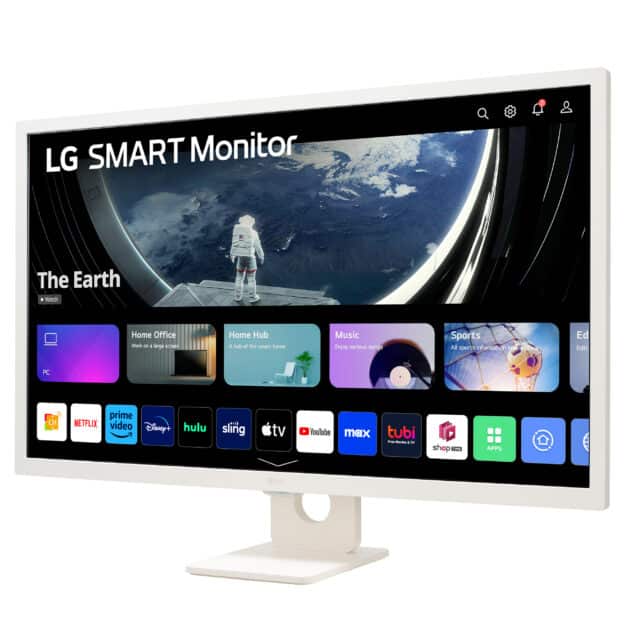 LG Electronics has officially launched its 2023 SMART Monitor lineup. The new additions, the 32SR50F and 27SR50F, are now available for purchase. The 2023 LG SMART Monitors, with sizes of 31.5 and 27 inches, are designed to enhance productivity. They integrate LG's latest webOS 23 platform, offering convenience for both remote work and entertainment streaming.
A notable feature of these 1080p monitors is their high-performance IPS displays, supporting HDR 10, which significantly improves the vibrancy and quality of images. This should prove beneficial for a range of activities, from participating in virtual meetings to general web browsing. The 27-inch model, with its 3-sided virtually borderless design, offers a sleek and minimalist aesthetic that appeals to contemporary tastes.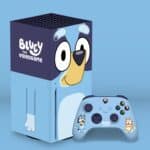 To celebrate the launch of a new Bluey video game, Microsoft has unveiled a custom-themed Xbox Series X console which perfectly captures the energetic spirit and characters from the beloved children's show. Complementing the console is a specially designed controller (also featuring Bluey's sister, Bingo), adding to the charm and appeal.
Unfortunately, you won't be able to buy this custom console as it's not for sale. Microsoft will instead be giving it away! To make the prize even more appealing, only one edition of this console is being offered for free. Yes, folks, there will be just one winner.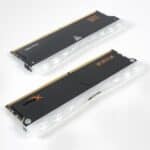 v-color Technology Inc. has announced its latest product line -- the TUF Gaming Alliance Memory -- which is comprised of both the DDR5 XPrism and DDR4 Prism Pro. As the name suggests, the memory was designed in collaboration with the ASUS TUF Gaming Alliance.
This gaming RAM is notable for its adherence to rigorous testing standards that surpass typical industry benchmarks. This ensures that each memory module excels in compatibility, stability, and durability.