Fastest ever broadband test achieves a staggering 1.4Tb/s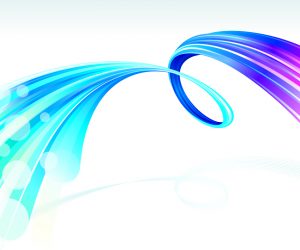 In trial run by BT (British Telecom) and Alcatel-Lucent in London, UK, a data transfer rate of 1.4Tb/s has been achieved. This certainly sounds fast, and Alcatel-Lucent is claiming that it is the highest data transfer speed ever achieved using commercial-grade hardware.
What could you do with an internet connection of this speed? If you felt so inclined you would be able to download no less than 44 HD quality movies in a single second. One. Single. Second.
What makes the tests particularly interesting is the fact that they were carried out using an existing fiber link rather than a new, dedicated line. The speed was achieved by increasing channel density on the fiber connection, helping to boost transmission efficiency by more than 42 percent. The new technique involved using a new "flexible grid" infrastructure called Flexgrid, and it demonstrates that significantly faster broadband speeds could be offered to home and business users without the need to upgrade the existing network.
This is something that is going to be welcomed by both ISPs and customers as it means that faster speeds are possible without a huge price hike. Just to show that the speeds were not limited to very short distances, the tests were performed over a 410km connection between London and Suffolk. Perhaps most importantly, as well as being incredibly fast, the data transfer was free from errors.
Dr Tim Whitley, BT's MD of Research and Innovation said: "BT has a long history of leading innovation in telecommunications, from the earliest days of the electric telegraph to today's global fiber networks. These trials continue that tradition, as we work with Alcatel-Lucent to push the boundaries of fiber technology, allowing us to support the ever increasing bandwidth required by our customers, and deliver new and exciting services which rely on fast, data-hungry applications".
It might be a while before connections of this speed start to filter down to the average user, but it certainly looks like the future of broadband is bright. And very, very fast.
Photo Credit: Keo/Shutterstock