Microsoft reveals Office web and mobile apps can use ANY cloud storage service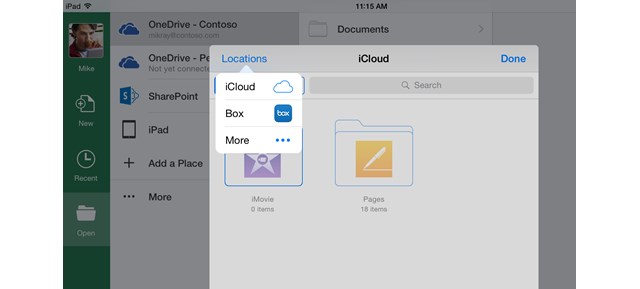 Microsoft's mobile-first, cloud-first strategy continues. In something of a surprise announcement the company reveals that it is launching a new cloud storage partner program meaning that any cloud storage provider will be able to integrate with Office for iOS and Office Online.
The news follows on from Microsoft's partnership with Dropbox in November and while it is just iOS users who will benefit from the new mobile options for now, Office for Android and Office for Windows 10 will also get the same treatment in due course. It's a recognition of the fact that integration with OneDrive is not enough so it shouldn't be long before we see iCloud and Google Drive working with Office.
Opening up the mobile version of Office to third-party cloud storage providers means that the likes of Google, Apple and others will be able to add their cloud services to the Locations picker in the Office apps. Users will be able to open, edit and save files using their preferred cloud service, cutting the ties with Microsoft's offering.
Today's announcement also sees Microsoft opening up Office Online to third-party providers, and Box, Citrix, and Salesforce are already on board. Once developers have signed up to the Cloud Storage Partner Program they will be able to integrate Office Online -- complete with PowerPoint, Word, and Excel document viewing and editing -- into their own apps and services.
Microsoft's corporate vice president for the Office team, Kirk Koenigsbauer said: "these new features represent a big step forward for Office integration into the apps and services that are important to our customers". He added: "Today's announcements are just one more step on our continuing journey to open up Office in new ways for our customers and partners. Living in a cloud-first, mobile-first world is all about having the flexibility to get things done from anywhere and on any device".