IKEA announces furniture with integrated wireless charging for phones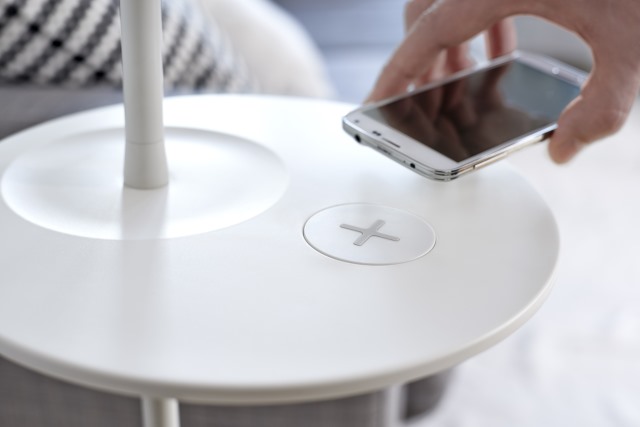 Starting in April, IKEA will start to sell furniture with integrated Qi wireless charging points. The Scandinavian flat-pack furniture store, famous for the likes of the BILLY bookcase, plans to launch a range of home furnishing in North America and Europe, before extending the rollout worldwide.
You might expect that sofas would be a natural home for wireless charging -- just pop your smartphone on the arm so it can power up while you watch your favorite shows -- but in fact it is tables, desk and, surprisingly, lamps which will boast the feature. It's not just phones like the Galaxy Note 3 and Nexus 5 that can take advantage of wireless power, but also tablets like the Nexus 7.
The collection is called HOMESMART, and it hides wireless charging pads into everyday objects, eliminating the spaghetti wiring that plagues all too many homes. Coffee tables, desk lamps, and even floor lamps feature Qi pads, so there's no need to fumble for the end of a cable, just pop your phone down and start juicing up.
Jeanette Skjelmose, Business Area Manager Lighting and Wireless Charging, said:
Through research and home visits, we know that people hate cable mess. They worry about not finding the charger and running out of power. Our new innovative solutions, which integrate wireless charging into home furnishings, will make life at home simpler.
So the tangle of cables could become a thing of the past, but now all of the phones in a house will be fighting for space around a lamp or on a desk.
Photo credit: IKEA