Google reveals Android M with improved security and battery life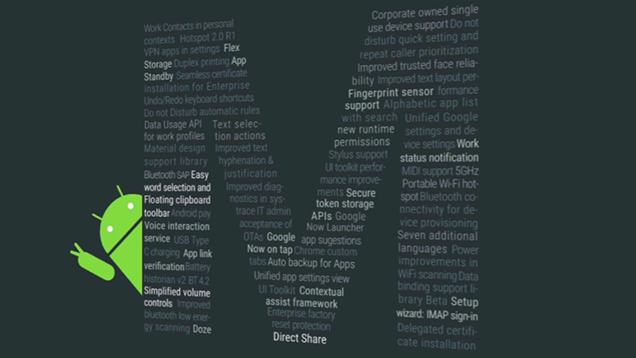 Ready to further facture the Android market, Google today gave us the first glimpse at what to expect in the follow up to Lollipop -- Android M. We're not yet any the wiser about what the M might stand for (Marshmallow? Marzipan? Mars?) but we do know that Google is placing a focus on security improvements, giving users greater control over app permissions, and prolonging battery life.
Battery performance improvements -- if Google is to be believed -- are seriously impressive. The company claims that its Nexus 9 tablet could benefit from twice the battery life currently enjoyed under Lollipop. What else is there to look forward to? The Developer Preview also boasts a new fingerprint reader API, indicating that biometrics are set to become increasingly important in future handsets.
The changes to the way permissions work is something that will be embraced by users who have been begging for finer-grained control for some time now. In Android M, it will be possible to configure permissions on a precise level for individual apps, and it has been made easier to revoke permissions as and when required. The ability to see a list of all of the apps that can access pictures, for instance, is something that places users back in control of their Android devices.
Borrowing an idea from iOS, many app permission will also be set the first time the app is run rather than simply being listed at the point of installation. For example, launch an app that makes use of your location, and you will be given the opportunity to permit or deny this on first launch. If disabling a particular permission reduces the functionality of apps, developers will be encouraged to provide meaningful feedback to users about what features are dependent on which permissions.
Permissions are an important component of perceived security, but something more obvious is facilitated by the fingerprint API. This will enable handset manufacturers to implement fingerprint device unlocking, and app developers to allow users to log into their accounts with a fingerprint rather than a username and password.
Improvements to battery life are what will excite most people, however. These have largely come about through the introduction of a Doze mode which puts devices into a deep sleep, low power mode when not in use. If a handset's sensors are not activated by movement -- such as when a phone is sitting on a desk -- certain apps and processes can be suspended to conserve power.
Other tweaks and changes to look out for in Android M include streamlined sharing so that the apps and contacts that are most frequently shared with are made more accessible. There are also simplified volume controls and easier word highlighting.