Firefox 39 introduces social network sharing of Hello conversations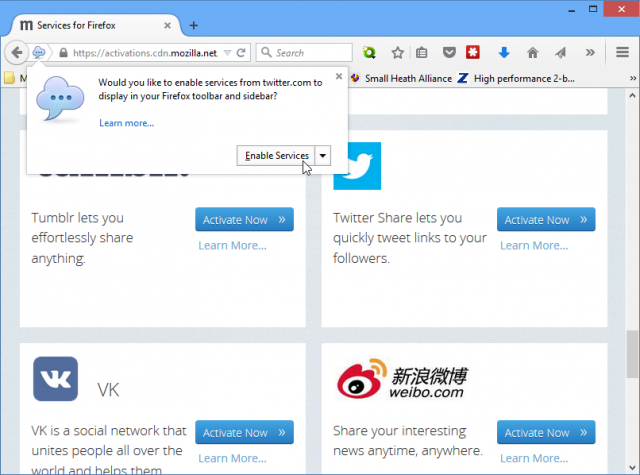 Mozilla has unveiled the latest version of Firefox, 39.0 for Windows, OS X and Linux PCs, along with Firefox for Android 39.0.
The new desktop build adds a social invite tool for its Firefox Hello chat feature while implementing a number of improvements and security features for Mac OS X and Linux.
Version 39 now allows users to share the URL of their Firefox Hello conversation with social network contacts, who can then join the conversation via their own Firefox browser.
Users must activate support for the feature via the Services for Firefox page. The four "big" services -- Facebook, Google+, LinkedIn and Twitter -- are all supported, and users should click each separate button to implement support for that network. Once implemented, users simply need to click "Share Link" in the chat window and select their chosen network to send an invitation.
Elsewhere, OS X users should notice that Firefox 39 now provides smoother animations and scrolling thanks to the implementation of Project Silk.
There's also greater protection against malicious downloads for OS X and Linux users thanks to the implementation of SafeBrowsing malware detection -- this feature was already present in the Windows build.
Other new features include support for the "switch" role found in ARIA 1.1, a series of standards for making web pages more accessible. This feature has also been implemented in Firefox for Android 39, which also finally allows users to paste Android clipboard content into editable web content.
Both builds also gain a number of security improvements, and widen support for HTML5 standards. There are also a large number of bug fixes implemented, detailed in the release notes. The desktop build also sees a number of Developer tweaks implemented.
Firefox 39.0 is available now for Windows, Mac and Linux as free, open-source downloads. A portable build is also available, as is Firefox 39.0 for Android.