Casio dives into the smartwatch market with an Android Wear offering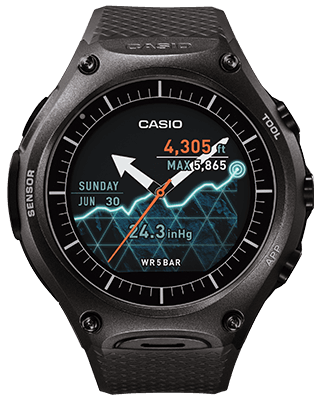 The smartwatch, wearables in general for that matter, are big these days. The technology dates back quite some time, but popularity and mainstream acceptance are more recent. Android Wear is a big part of that, as Google created a platform for electronics makers to work with and many have responded with offerings.
The latest device you may want to grace your wrist is from Casio, known as the Smart Outdoor Watch, though the real name is the WSD-F10.
The watch claims "military standard specifications" under guidelines set by the Department of Defense (MIL-STD-810). So what does that mean? Well essentially that it's designed to be rugged. The wristwear is water resistant to 50 meters and comes with a range of sensors to measure environmental levels around you. This also includes testing for shock and vibration.
Then there are the sensors of which Casio says "The WSD-F10 comes with dedicated applications that measure and display essential information for outdoor activities and sports using a pressure sensor, compass, and accelerometer. The upper right TOOL button brings up information such as compass direction, air pressure and altitude, sunrise and sunset times, tide graphs, and activity graphs—providing real-time information about changes in the natural environment and activity levels".
It will also link to Casio Moment Setter which aims to provide optimum times for activities like hiking, cycling or even fishing.
You get all of the expected Android Wear features as well, including weather and apps like RunKeeper and even ViewRanger which tries to help you find your way on a hike.
Specs are as follows:
| | |
| --- | --- |
| Water Resistance | 50 meters |
| Environmental Durability | MIL-STD-810 (United States military standard issued by the U.S. Department of Defense)*5 |
| Display | 1.32-inch dual layer displayColor TFT LCD and monochrome LCDColor: 320×300 pixels |
| Touchscreen | Capacitive touchscreen |
| Sensors | Pressure (air pressure, altitude) sensor, accelerometer, gyrometer, compass (magnetic) sensor |
| Microphone | ● |
| Vibrator | ● |
| Wireless Connectivity | Bluetooth® V4.1 (Low Energy)Wi-Fi (IEEE 802.11 b/g/n) |
| Buttons | TOOL button, Power button, APP button |
| Battery | Lithium-ion battery |
| Charging Method | Magnetic charging terminal |
| Recharging Time | Approx. 2 hours at room temperature |
| Battery Life | In normal use: more than 1 day, roughly (varies according to use)Timepiece Mode (timekeeping only): more than 1 month, roughly (varies according to use) |
| Water Resistance | 50 meters |
| Environmental Durability | MIL-STD-810 (United States military standard issued by the U.S. Department of Defense) |
| Size of Case | Approx. 61.7mm×56.4mm×15.7mm (H×W×D) |
| Weight | Approx. 93g (including watchband) |
| OS | Android Wear |
| Operating Environment | Use of the device requires a smartphone with the following specifications Android Smartphone with Android 4.3 or later.iOSOne of the following models with iOS 8.2 or later:iPhone 5 or later |
Like many things from the Consumer Electronics Show the pricing and availability date were not included in the announcement. It will ship with a choice of four colors -- black, orange, green and red.