Samsung to plant Trojan horse in Apple's yard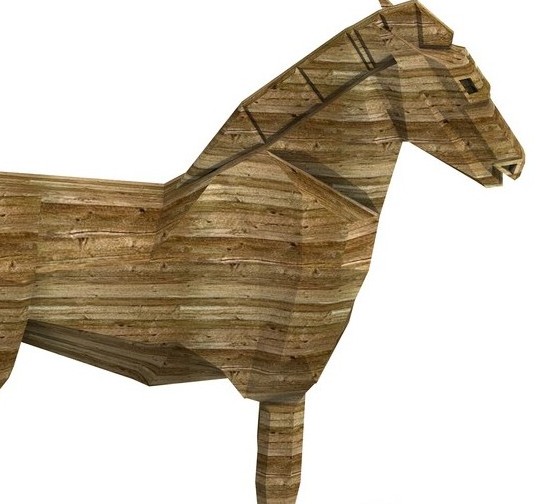 Samsung already has a bunch of its apps on iOS, but this year the company plans to bring the majority of its apps to the App Store. In fact, it's quite possible that all of Samsung's apps will be available for iPhones and iPads soon.
To many, this decision comes across as counterintuitive considering Samsung's rivalry with Apple. However, there's no reason for Samsung not to make money off of Apple. In fact, it's a smart decision that will support its position on the market, while Apple will likely take a hit, which may not seem quite that obvious.
Apple follows a strategy of building a platform instead of selling standalone products. It's a great business strategy that made Apple what it is today. As a result, once you buy Apple you're more likely to buy more of it, which is exactly what makes Apple so successful.
Among its users Apple is a monopoly and the last thing it wants is to have their top competitor pitch its products to the company's core customer base. Especially now when Apple chases the next big thing, namely smartwatches. And bear in mind, that unlike Samsung which offers a variety of products in many different markets, Apple relies on selling few core products to the same customer base.
Samsung, on the other hand, comes from the world of commoditization. With Android being an open platform, anyone can build hardware, and that makes everyone other than Apple compete on price. Competing on price makes margins thinner and thinner; just ask early days PC manufacturers like IBM and Compaq.
With commoditization in the Android market, Samsung smartphone profits are now in decline and the sales outlook for 2016 isn't too optimistic either as the company expects slower growth amid intensifying competition. Among the new apps coming over to iOS are the companion apps that meant to work for Samsung's smart devices like smartwatches, smart TVs and smart cameras.
For example, Samsung is rumored to be working on Gear Fit Manager for iOS as well as S Health app for iPhone, which can be used to log daily activity, workouts, calorie intake, sleep, etc. Other apps Samsung is working on include Remote Control and Family Square apps for the iOS, which support Galaxy View and Level app for Samsung's audio devices. And then there's a newer version of the Smart Camera app for iOS, used for remotely controlling the company's smart cameras.
Smart TVs, smartwatches, and smart cameras are the next generations of devices where Samsung can expect some growth, also as a part of the rising trend of the connected home, for which the company seems to have big plans.
Besides, wearables, especially smartwatches and fitness bands, seem to mimic the growth tablets few years ago, according to analysts at investment bank Piper Jaffray. That makes it a very attractive product category. The move will allow Samsung to market its products to iPhone users who otherwise would consider buying them from Apple or some other brand (e.g. Pebble, that's not a huge threat to Apple's other product lines.)
How exactly is it going to hurt Apple? Firstly, Samsung can now pitch is smartwatches to the iPhone crowd who wouldn't otherwise buy it. Secondly, one of big reasons why Apple holds a monopoly status is brand loyalty. Now that Samsung can fully pitch itself to Apple consumer base, it also gets an opportunity to build some brand loyalty for itself.
As a consumer you may buy a Samsung camera and Samsung View because it works with your iPhone. If you get to like those product next time you're buying a phone it's Galaxy vs. iPhone. Right now it's iPhones, iPads and Apple Watch, but in the future there may be more product categories where Apple and Samsung compete.
This is positive news for consumers who will enjoy wider product options. Another group who might feel some positive effects are app developers. If Samsung manages to win a leading share of the growing market for wearables developers will find it more attractive to build apps for it.
Most developers of paid apps prefer to develop for iOS first because its users spend more money. So if Samsung can now tap into that demographic, developing for Galaxy Gear first might be an interesting option.
This is a smart move on Samsung's part. Its phone sales are weaker and, with more price competition in the Android market to come, the trend will likely continue. The new generation of products is where the next market opportunity is.
For example, wearables are forecasted to reach 111 million shipments this year and over 200 million per annum by 2019, according to IDC. There is no clear winner in those markets yet, but Samsung is clearly going for it.
For Apple, this isn't great news. It's not horrible news either, but unless Samsung screws up, it is likely to lose at least some part of the potential Apple Watch customers to Samsung.
Mark McDonald is co-CEO at Appster.
Image Credit: Sadik Gulec / Shutterstock