Latest Amazon Fire TV update appears to break Harmony remote, but doesn't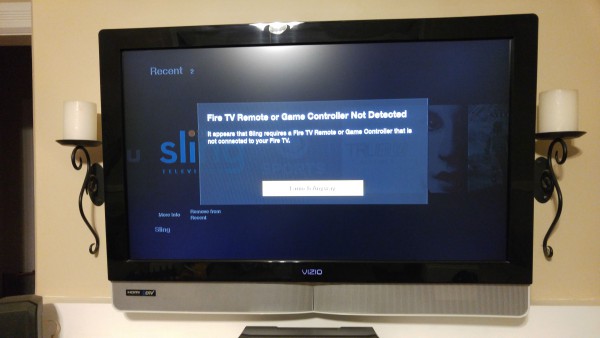 Earlier today we told you about Amazon's latest roll out of updates, bringing new software to both the first generation Fire TV and the Kindle reader. While Kindle adds a new home screen, Fire TV introduces both Amazon Echo control, though it isn't quite what you think, and a new video section to guide you along the way.
While the new software improves things quite a bit, there can be a dark side to these updates. Sometimes they just simply break things, mostly in unexpected ways.
One such problem has cropped up since we updated the Fire TV earlier today. If you are using a Harmony remote control then, first of all, you have a great remote, but second, it is going to seem broken.
After the update has installed and your set-top box has rebooted, you will get a strange message when you grab the Harmony remote. A box pops up that tells you "Fire TV remote or game controller not detected". Yes, it isn't because you aren't using it, no mystery there.
Don't worry too much about this. While annoying, you can simply click "OK" and things will work just fine. It's a bit odd that it comes up, given that the device had to recognize the remote in order to go to the app and throw the message up.
Though it's a bit of a pain, it doesn't really slow you down, aside from that extra click. For now, you will have to live with that, but likely it will be updated soon.