Why does Oculus Rift not support Macs?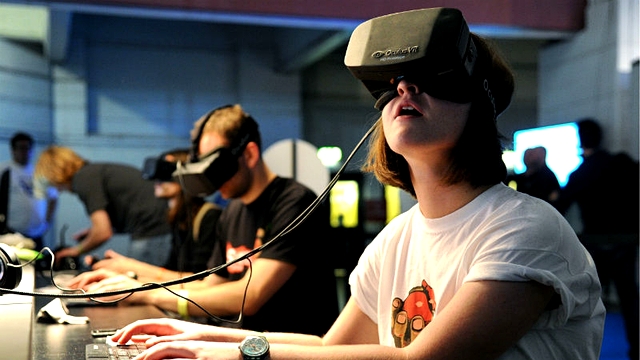 To be on the cutting edge of technology you sometimes need to make some hard decisions. If you are a Mac user who is interested in Oculus Rift, you will have to choose between your love of Apple's computers and enjoying the virtual reality headset. That is because the two do not go hand in hand, as Oculus Rift only supports Windows PCs. Ouch!
Your Mac is not held back by Windows per se, because it can be easily installed via Boot Camp or Parallels -- and you get pretty much the same user experience as a PC user. The reason why Mac support is currently out of the question boils down to hardware limitations.
When asked whether Mac support will ever be introduced, Oculus VR founder Palmer Luckey said that "That is up to Apple. If they ever release a good computer, we will do it". And by "good", Luckey means fast enough to handle an Oculus Rift.
Looking at the recommended PC specifications for Oculus VR, Macs come up short in a single area, and that is the GPU. Other than that, it is possible to get a Mac with an Intel Core i5-4590 processor or a faster one, at least 8 GB of RAM, HDMI 1.3 compatibility, three USB 3.0 ports and a USB 2.0 port, and, of course, Windows 7 Service Pack 1 64-bit or newer.
However, Oculus VR also needs at least an Nvidia GTX 970 or AMD R9 290 graphics card, and no Mac can currently offer similar levels of performance at this time. No, not even a Mac Pro, as Luckey explains.
"It just boils down to the fact that Apple doesn't prioritize high-end GPUs. You can buy a $6,000 Mac Pro with the top of the line AMD FirePro D700, and it still doesn't match our recommended specs. So if they prioritize higher-end GPUs like they used to for a while back in the day, we'd love to support Mac. But right now, there's just not a single machine out there that supports it".
Luckey is obviously right, because most Macs come with laptop-grade graphics, and most do not even have a dedicated card as an option. You can find that on Mac Pro and the pricier 15.4-inch Retina MacBook Pros, but not on a MacBook Air or any 13.3-inch MacBook Pro. And, apparently, even when Apple offers a dedicated graphics card, it is not powerful enough to handle an Oculus Rift.
Fact of the matter is, Apple has not designed Macs so that they can handle virtual reality headsets as resource-heavy as Oculus Rift. The recommended hardware specifications listed by Oculus VR are hard to meet by the vast majority of PCs, because of that graphics card requirement alone. It is a new technology, after all, so that is to be expected.
But, considering that Apple CEO Tim Cook believes that virtual reality is "really cool and has some interesting applications", we could see Apple introducing faster GPUs in the near future, at least for its Mac Pro line. In the meantime, if you are a Mac user who really wants to use Oculus VR, just get a PC.