Google Maps tries to make it easier to get around with new feature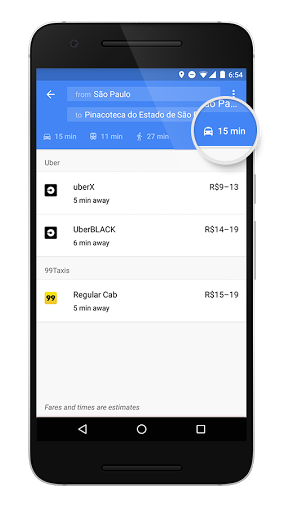 Remember the days when we went everywhere with either a printed map or none at all? That's not the case these days as we almost universally have maps at our fingertips. Leading the way in this market is Google, which powers many mobile devices, though it's far from the only option.
Now the search giant is rolling out an update that it hopes will improve getting around town. This comes in the form of a dedicated tab aimed at commuting in the fastest way possible.
Wondering how to get from point A to point B? This tweak is designed to tell you the best method, be it walking, public transit, a service such as Uber or simply calling a taxi.
"In addition to our existing global ride service partner Uber, with this update we're adding new providers across five countries: 99Taxis in Brazil, Ola Cabs in India, Hailo in the UK and Spain, mytaxi in Germany and Spain, and Gett in the UK", says Holger Flier of Google.
This means you will no longer need to access separate apps to search for options. Google claims that if you have an app installed then it will pull the data from it into the new tab and give you all of the data, including travel time, estimated pick-up time and more.
"When it makes sense, we'll also show ride service availability when viewing the map in walking and transit directions, and multiple ride services options for each provider -- where they exist".
This will begin rolling out over the next few days for Android users. iOS folks will have to wait, but Google promises it will come to you as well.