Simplified connection sharing comes to Android with Instant Tethering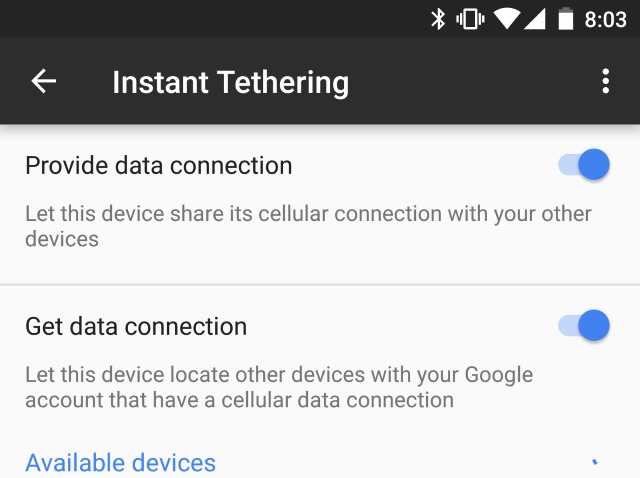 Take your phone with you wherever you go, and you can use it to get your laptop online thanks to the wonder of tethering. This seemingly simple technological marvel is a delight for people working away from the home or office, and Google is now making things easier than ever with Instant Tethering.
The new feature is rolling out to some Android devices now, and it takes the 'hard work' out of creating a hotspot with your phone to which your other devices can connect. As the name suggests, the aim is to make the connection instantly.
As reported by Android Police, Instant Tethering is part of Google Play Services 10.2 and it makes it quicker and easier to get devices online that are associated with your Google account. For now the feature is rolling out to Nexus and Pixel devices, but it will make its way to other handsets in due course.
The idea is fairly simple: devices associated with your Google account use Bluetooth to communicate with each other. If you try to get online with a device that does not currently have a connection, it will communicate with one that does and ask if you would like to share and make use of the connection.
Android Police shares the following information:
Instant Tethering is rolling out first for Nexus and Pixel devices running Android Nougat 7.1.1. The Nexus 9 and Pixel C are supported only as clients—they can connect to your compatible phone, and this will work even on Marshmallow. Phones like the Pixel XL work as the hotspot side. However, two phones can also connect to each other with Instant Tethering if one of them loses its connection.

More devices should get support as the feature is tested. There is a server-side component to this feature, so you might not see it right away even after installing the new Play Services. Restarting might trigger it, though.
Image credit: Android Police