Silicon Power makes USB as easy as 'ABC' with Mobile C50 Triple-Interface Flash Drive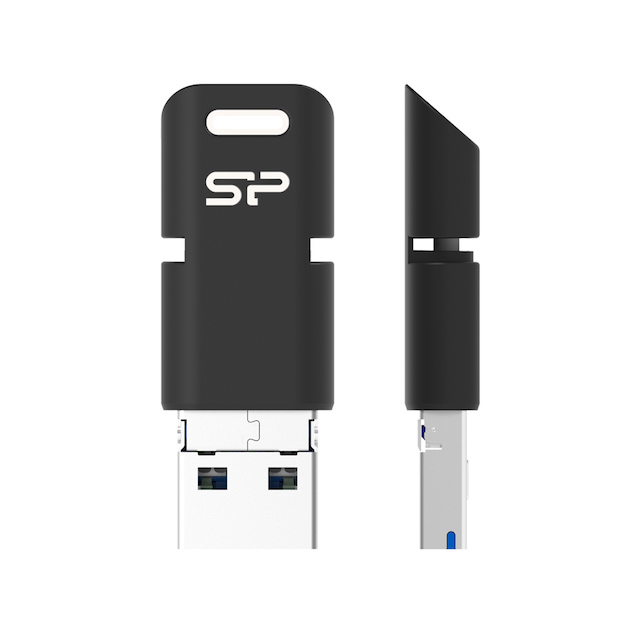 Back in the days of floppy disks, USB flash drives were seen as magic. When first sold, consumers could hardly wrap their heads around the concept. You didn't need to purchase a special drive to read the media, as the USB ports found on many computers were already there -- mind-boggling. Hell, it could attach to your keychain -- wow! Not to mention, they held much more data than a floppy. They were particularly great for students, as it meant easily saving and transporting files.
Nowadays, these USB flash drives are largely boring. While still useful for operating system installations, the cloud has made them sort of obsolete for data storage and transport. Quite frankly, these flash drives can be privacy nightmares too; they can potentially spread malware when inserted, and many users don't bother with encryption. Today, however, Silicon Power unveils a USB flash drive that is exciting. You see, the "Mobile C50," as it is called, features a triple interface -- USB-C, USB-A, and USB micro-B. In other words, if a computer or device has any type of USB port, it should be compatible.
"As all good things come in threes, SP's new OTG Mobile C50 has three connectors –USB Type-A, Micro-B, and Type-C. Never lost for the right connection, it's easier than ever to share data between new-generation USB Type-C devices, any "traditional" USB PC or laptop, and Micro-B smartphones or tablets. The compact drive is also a reliable companion for extra storage needs plug-n-play and tops up USB Type-C or Micro-B mobile devices with up to 128GB free space," says Silicon Power.
ALSO READ: USB 3.2 is coming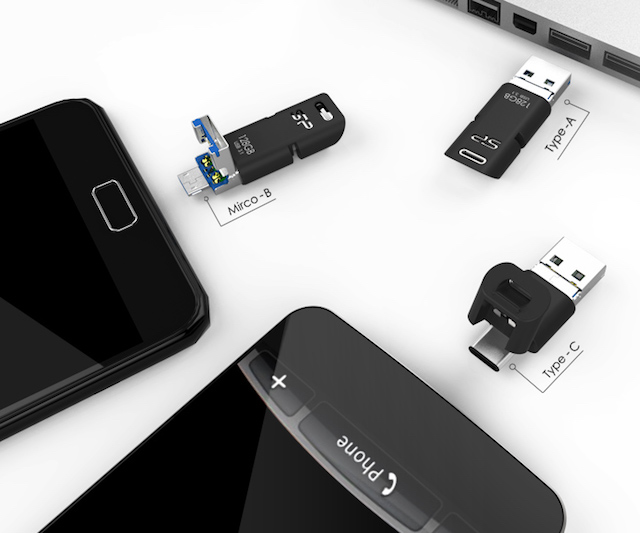 The manufacturer further says, "The USB Type-C connector is protected by a sturdy, yet highly elastic rubber cap ready to be snapped open over 10,000 times. And as it is firmly attached to the drive, there's no need to worry about leaving it behind somewhere. On the other end, the USB Micro-B is protected covered by the USB connector when not in use. The drive's ergonomic grip makes plugging and removal effortless and smooth, while a hole for key rings ensures easy transport."
Silicon Power shares the following specifications.
Capacity: 32GB, 64GB, 128GB
Dimensions: 41.2x 20 x 14.4mm
Weight: 5.2g
Material: TPU
Interface: USB Type-A (USB3.1 Gen 1), Micro-B (USB2.0), Type-C (USB3.1 Gen 1)
Supported OS: Windows 10/8.1/8/7/Vista/XP, Mac OS 10.3.x or later, Linux 2.6.x or later
Operating Temperature: 0°C-70°C
Certification: CE/FCC/BSMI/Green dot/WEEE/RoHS/KCC
Warranty: 5 years
While pricing and availability are unknown for now, the Silicon Power Mobile C50 Triple-Interface Flash Drive should be hitting stores, such as Amazon, fairly soon. If you find yourself needing to purchase a flash drive, it is definitely a model to consider. After all, even if you don't need USB-C now, this will essentially be future-proof. Not to mention it looks really cool too.