Google announces Nearby Connections 2.0 complete with offline communication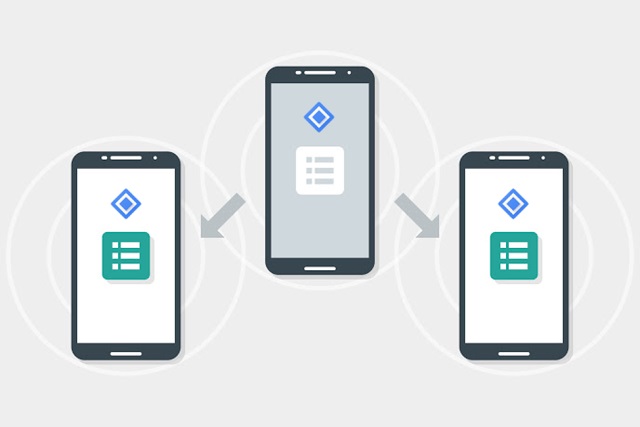 The second iteration of Nearby Connections -- called, funnily enough, Nearby Connections 2.0 -- is upon us. Google has released the API to Android developers, giving them access to greater bandwidth, reduced latency, and -- most excitingly -- offline functionality.
Working over Bluetooth and Wi-Fi, Nearby Connections 2.0 makes it possible for devices to communicate with each other without the need for an internet connection. The API is supported by Android devices running Google Play services 11.0 and above, and it is essentially a peer-to-peer system that works much like a next-generation version of NFC.
So what's the potential for Nearby Connections 2.0? Introducing the technology, Google suggests that it could be used to automatically adjust the temperature of your hotel room when you walk in, or the address books of two devices could merge whenever they are near each other. Two different forms of nearby network topology (a mesh networking system, or a network with one device in charge) allows for a range of possible uses.
Google explains:
At the heart of this API is a connection (with Unix-socket-like semantics) that you can use to transfer bytes, files, or streams of data. There are two supported connection topologies:

Star: Useful for creating 1:N topologies where there's a centralized device that others are especially interested in. For example, the host of an offline game, or the teacher's device in a classroom quiz app.
Cluster: Useful for creating M:N topologies that allow for creating looser mesh-like networks. For example, a classroom app that supports forming ad-hoc project groups for realtime collaboration, or an offline hyper-proximity-based chat app.
It is obviously very early days for Nearby Connections 2.0, but Google reveals a number of ideas that have been developed:
The Weather Channel is building on-demand mesh networks in data-deficient areas to spread urgent weather warnings.
Hotstar enables offline media sharing in places with spotty/no internet connectivity (like on public transportation, airplanes, etc.)
GameInsight is using Nearby Connections to not only find nearby players, but also to run entire games offline.
Android TV is building a remote control app (powered by Nearby Connections) to simplify initial setup, and to enable subsequent second screen experiences.
More information is available on the Connections API page of Google's developer site.