Updated Google Earth arrives on iOS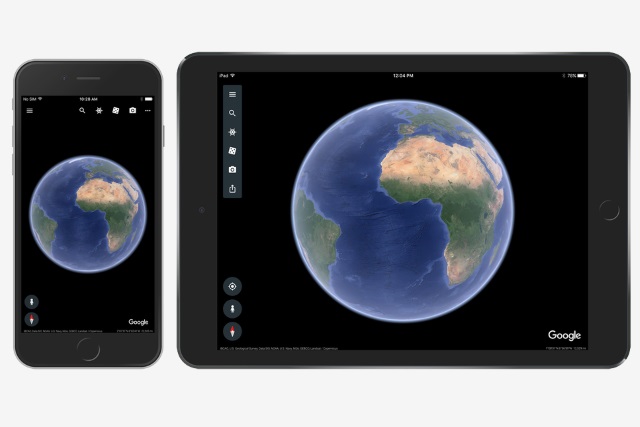 It has been a number of months since Google Earth received a makeover on Android and the web, and now the update is making its way to iOS. The latest version of the 3D world-exploration tool has been overhauled, bringing a number of new features to iPhone and iPad users.
These features include 360-degree videos, guided tours, and the interactive Voyager option for traveling virtually to major cities of the world.
As well as being fun, the updated version of Google Earth makes it easier to learn about the world as well. Google's Knowledge Cards impart information about key landmarks around the world, or you can opt to use the search engine-inspired "I'm Feeling Lucky" option to be transported to a ransom location to learn about.
Google picks out a number of highlights of the new version of the app in its App Store listing:
Choose your own adventure with Voyager. Experience interactive stories from around the world.
Discover new places with Knowledge Cards. Flip through cards and learn about local landmarks.
Orbit the world in 3D. Use the new 3D button or tilt the map with two fingers.
Snap and share a Postcard. Capture snapshots of locations and share them with your friends.
Feeling Lucky? Roll the dice and see where the world takes you.
But it's Voyager that's arguably the star of the show here, and Google has more to say about this feature:
Half the fun of travel is planning your trip. Voyager, our new interactive stories feature in Google Earth, can inspire your next travel destination. Under the Travel category, you'll find detailed multi-day itineraries for 17 cities, from Paris with Kids to Beyond the Beaches of Rio de Janeiro.

Maybe you're a lover of the outdoors? Visit the brown bears of Alaska's Katmai National Park, ride the curl with Super Surf Spots, or trek Machu Picchu. Culture buff? Discover a new exhibit with Museums Around the World or follow in the footsteps of the Fab Four with Beatlemania. With more than 140 stories in eight languages, Voyager has travel ideas for just about everybody.
You can download Google Earth from the App Store.