Google adds pollen forecasts to searches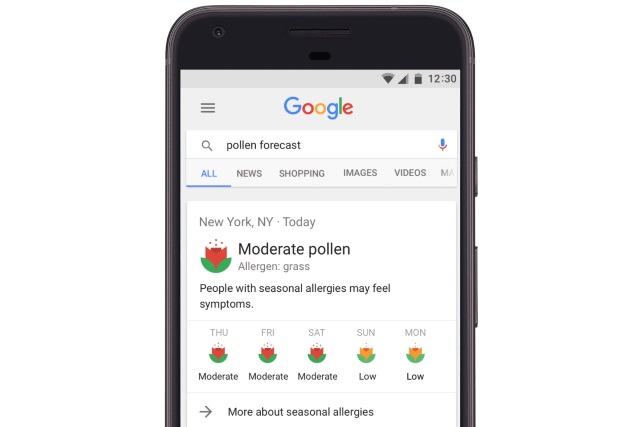 A lot of people like to know what the weather is going to be like, but if you suffer from hay fever it can be all the more important to know what to expect. To make life a little easier for people struck by "seasonal allergies," Google is rolling out pollen forecasting.
The new feature is integrated into Google search, and it comes as the search giant teams up with The Weather Channel to help give accurate allergy information.
The feature uses your location to provide you with up-to-date information about pollen and other allergens. To save you from having to manually search for the forecast, Google says that you can enable reminders in the Google app for when the pollen count is high -- just hit the Turn On option when you have conducted a search to enable this feature.
Announcing the new feature, Google says:
Across the U.S., we see that search interest for allergies spikes each year in April and May and then again in September. To help you get ahead of your seasonal allergies symptoms, now when you search on mobile for pollen or allergy information on Google, you'll see useful at-a-glance details on pollen levels in your area.

To make the most up-to-date and accurate information available, we've worked with The Weather Channel to integrate their pollen index and forecast data information directly into Google. To see more pollen and allergy details, you can tap the link within the pollen experience.
The roll-out is underway, so watch out for the arrival of pollen counts in your searches.