Google pulls YouTube from Amazon Echo Show for ToS violations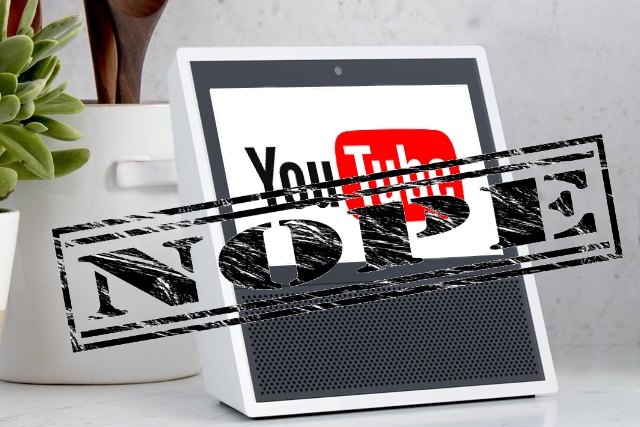 If you have heard Alexa utter the message "Currently, Google is not supporting YouTube on Echo Show," you'll be aware of the issue: Google has pulled YouTube from the Amazon Echo Show.
Google says that Amazon's Echo-with-a-screen creates a "broken user experience", and it seems the company would rather there was no customer experience than a broken one. A war of words has erupted between the two companies, and neither is particularly forthcoming with detail.
The problem first reared its head yesterday afternoon when support for YouTube suddenly ceased. No warning was issued to users ahead of the decision, leaving many in the dark about what had happened.
A statement given to the Verge by Amazon expresses surprise at the move by Google:
As of this afternoon, Google has chosen to no longer make YouTube available on Echo Show, without explanation and without notification to customers. There is no technical reason for that decision, which is disappointing and hurts both of our customers.
Google paints a rather different picture, saying that Amazon was violating its terms of service:
We've been in negotiations with Amazon for a long time, working towards an agreement that provides great experiences for customers on both platforms. Amazon's implementation of YouTube on the Echo Show violates our terms of service, creating a broken user experience. We hope to be able to reach an agreement and resolve these issues soon.
With Google not being very open about what the exact nature of the problem is, it's hard to say just how easy -- or possible -- it is for Amazon to address the issue. At the end of the day, Amazon benefits more from the inclusion of YouTube here than Google does from gaining a handful of Echo Show users, so it's really in Amazon's interest to bow to Google's demands... whatever they may be.
Image credit: Tomasz Guzowski / Shutterstock