Trust in data: How start-ups can thrive in the data economy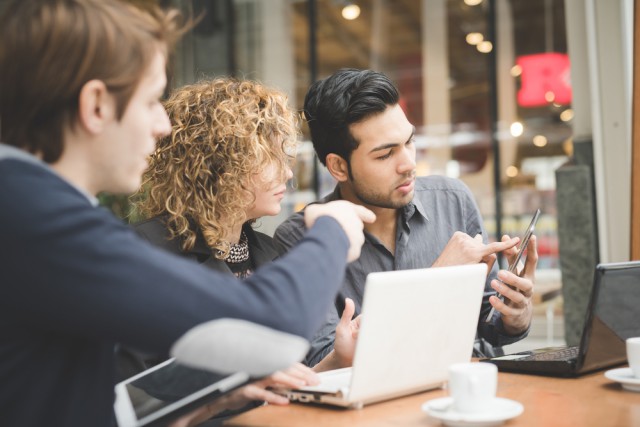 Data is crucial in today's tech-driven world, with enterprises prioritizing its use in all aspects of their operations. A recent survey shows that 83 percent of CEOs want their organizations to be data-driven.  However, the same survey found that only 25 percent of organizations are data-leading companies. This presents a significant opportunity for start-ups to establish themselves at the forefront of the data economy. 
The early days of the data economy relied on users handing over their data to access digital services, and companies then monetize that data through advertising. There is now a transition underway where businesses are seeking to improve and broaden how they create, manage, analyze, and extract value from their data. This expansion will expand the data economy's definition and market potential, creating an opportunity for start-ups to create hardware and software that will enable this new era.
Regulations that promote growth
As the global economy evolves to become increasingly dependent on data-driven innovation, it's essential to prioritize the development of standards and regulations that promote growth and innovation while safeguarding privacy, security, and ethical standards. Europe, in particular, has a vital role in balancing the need for data flow and use with the need of preserving high standards of privacy, security, and ethics. Start-ups should be aware of these rules and work with regulators to ensure that governance meets their needs. By serving as a 'voice from the front lines', start-ups can help ensure that regulators understand what's needed to continue growing and innovating to push forward the data economy.
For example, the 2020 EU Data Strategy prioritized finding a "European way, balancing the flow and wide use of data while preserving high privacy, security, safety, and ethical standards." This strategy recognizes Europe's unique position to find a pragmatic middle ground between the private sector-first approach in the US and the significant state controls in China. The new EU rules on data are predicted to add a further €270 billion in revenue by 2028. By keeping up to date with policymakers, businesses can build a more vibrant, inclusive and forward-thinking approach to data-driven innovation.
Transparency crucial for data-driven innovation
In today's digital economy, building trust is critical to unlocking the full potential of data-driven innovation. With it, businesses can gain access to the large data sets necessary to advance emerging technologies like AI. To address this challenge, transparency must be at the forefront of the data-sharing process. Users must clearly understand how their data will be collected, used, and protected before they are willing to share it.
Several approaches can help businesses build trust and transparency in their data operations. One emerging trend is a shift toward building AI models that run on high-quality, accurate data -- rather than simply focusing on massive data sets. Federated learning is one such approach, allowing algorithms to be run locally before sharing only the training results centrally. This technique is becoming increasingly utilized in industries like banking, healthcare, and education, where data security and privacy are business-critical priorities.
Businesses should seek to be at the forefront of emerging trends and innovative solutions to leverage data for competitive advantage. By embracing transparency and prioritizing data quality, businesses can build trust with their customers and unlock the true potential of the data economy.
Potential for scaling up
The opportunities available in the data economy are significant. The European Commission reports that the EU27 data economy was valued at approximately €325 billion in 2019, and this is just the beginning. By 2030 the European data economy is expected to reach €1 billion from 2030.
As we have discussed, this new landscape for the data economy is not going to be all about ads and commerce. Businesses across various sectors are using data to streamline processes and optimise operations. One of the most promising areas is intelligent enterprise automation. This involves using automated technologies such as AI, process mining, RPA, and document automation to streamline key processes throughout the enterprise. UiPath is one of the leaders in this space, with its platform deploying intelligent automation to combine complimentary technologies such as AI, ML, optical character recognition (OCR) and intelligent document processing (IDC). These capabilities demonstrate the value of being a data leader as they empower businesses to open up new ways of interacting with customers, employees and vendors.
The digitization of operations and resultant data analytics has emerged as a vital tool for achieving a seamless and transparent journey for products from the factory floor to the customer. German start-up Operations1 is at the forefront of this innovation, with its connected worker platform empowering manufacturers with a complete view of their workflows and processes. This enables them to enhance, streamline, and future-proof their operations. Operations1's commitment to placing data analytics at the core of everything it does provides manufacturers with a powerful tool for making data-driven decisions about their operations. The result is a smoother, more transparent, and ultimately more efficient product journey from the factory floor to the customer.
Start-ups can provide real value by creating category-defining software that leverages the power of data. This is the crucial connective tissue between businesses and the data they need to compete and deliver exceptional customer experiences. As the data economy continues to grow and evolve, there is a massive opportunity for start-ups to step up and fill this gap.
The future looks bright
In today's tech-driven world, data is a defining feature that has the potential to revolutionize how industries function and connect with customers. Whether automating and optimizing manufacturing processes or using marketing data to create personalized customer experiences, the opportunities are significant.
Nowhere is that truer than in Europe. The European data economy currently accounts for 3.6 percent of EU GDP, and is expected to exceed €1 trillion by 2030. Europe is uniquely poised to lead the charge in this exciting new field, drawing on its world-class universities, engineering talent, and reasonable regulators to build the next generation of category-defining software and businesses in the expanding data economy. For start-ups that seize the initiative here, the future looks bright.
Photo Credit: Eugenio Marongiu/Shutterstock
Tom Henriksson is General Partner at OpenOcean.