Will Pandora's share-price collapse burst the IPO tech bubble?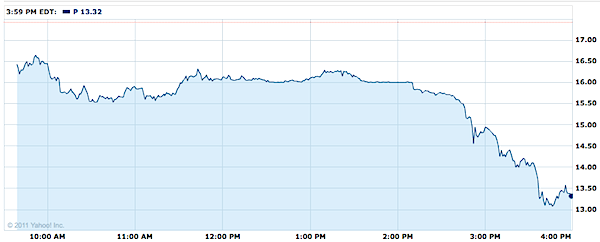 It seems inconceivable that Pandora's public offering could get any worse. But it has. The newly minted stock, which closed down 24 percent, fell another 4.3 percent in after-hours trading this evening. The IPO was only yesterday!
Pandora shares traded for $12.69 after hours, following a close of $13.26 late this afternoon. Pandora's IPO price was $16, but the stock initially surged to $26 in early trading yesterday, closing $1.26, or 8.9 percent, above the start price. In early trading today, Pandora shares buoyed up and down around the IPO price, only to collapse by market's close.
The problem seems to be investor confidence and perceptions, whether or not real, in Pandora being a sustainable and profitable business. One concern is the cost of success. The more streaming customers Pandora gains the more its licensing fees to record labels increase. Then there is timing. Amazon has launched and Google is testing music streaming services that let consumers store their own tunes for streaming. Something else: Apple's iTunes in the Cloud service, which syncs users' music to any device without having to upload it like the Amazon or Google services.
Investors opened Pandora's box, but they didn't like what they saw inside. What they let out may be as big as the despair loosed in the greek myth. Following LinkedIn's big IPO, murmurs of a new tech bubble forming started among analysts, bloggers, journalists and other watchers of techdom and Silicon Valley. Pandora shows that investors perhaps have a stomach for profits after all and aren't willing to wait on promises that newfangled business models will some day pay off.
Pandora could pop the bubble before it truly expands and give other startups reason to pause. For example, Groupon is preparing a controversial public offering, and its business model problems may be worse than Pandora's. Groupon has a successful business, but not necessarily one with sustainable profits. The startup has been burning through venture capital cash like a California wildfire.
Groupon is looking to raise between $750 million to $1 billion, which woud put the company's valuation at somewhere in the $15 billion to $20 billion range. This is for an operation not likely to see a profit soon, particularly at its current burn rate -- $117 million per quarter, spending $1.43 for every dollar of revenue.
"While revenues grew by 2,000 percent last year, making Groupon one of the fastest growing companies in history, the cost of that growth was huge," writes Dan Solin, senior vice president of Index Funds Advisors. "The company's operating expenses increased by almost 6,000 percent."
Even LinkedIn, for all its IPO success, has reasons to worry. Today, Pew Internet released a report on social networking that bodes poorly for the startup. Ninety-two of U.S. adult social network users are on Facebook, but only 18 percent on LinkedIn. More dramatic: More than half of Facbeookers use the service every day, while just 6 percent of LinkedIn users go there daily.
LinkedIn shares, which were initially priced at $45, shot up more than 109 percent to a closing price of $94.25 during the first day trading. But the stock took some beating today, perhaps because of the Pew report or perhaps collateral damage from Pandora -- or both. LinkedIn closed at $68.27, down 8.51 percent, or $6.35. LinkedIn is up 1.29 percent in after-hours trading.
Pandora's box is open. Will it chill other IPOs? The more immediate question: What will tomorrow bring for Pandora shares?