Steve Ballmer headlines Consumer Electronics Show again -- but why?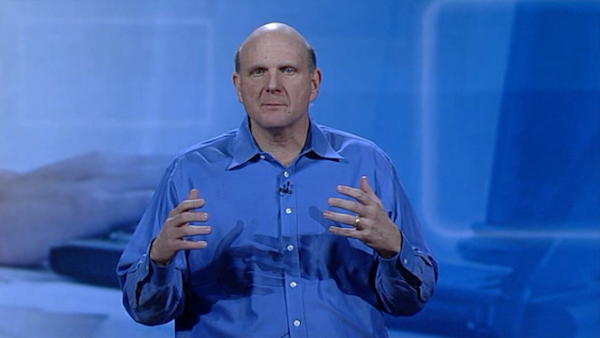 File this in the "if he's still CEO" department.
Today, the Consumer Electronics Association announced that, no surprise, Microsoft's CEO would give CES' kick-off keynote next year.
"We are pleased to welcome Microsoft back to the CES keynote stage," Gary Shapiro, CEA president, says in a statement. "From mobile to desktop to gaming and beyond, Microsoft has a significant impact on all aspects of the consumer technology industry, and Steve Ballmer's keynote is a great way to kick off the exciting 2012 International CES. We are excited to hear Microsoft's latest initiatives and Ballmer's vision for where consumer technology is heading".
Ballmer's keynote will begin at 9:30 p.m. ET on Jan. 9, 2012. It will be his fourth since taking the reigns from Microsoft Chairman Bill Gates. No disrespect to Ballmer, but I can't think of many companies less appropriate to kick off CES.
Microsoft's core business is software -- Office and Windows -- not consumer electronics. The majority of Microsoft customers are businesses, not consumers. The company produces arguably only one CE device -- Xbox 360. There are no smartphones, tablets, TVs, portable media players or other consumer electronics made by Microsoft, and the most popular devices run software from other companies.
Most of the world's PCs run Windows, but the majority of CE products don't. Microsoft's core business is the Office-Windows-Windows Server applications stack, which is eroding before the mobile-to-cloud apps stack. Why is CEA paying homage to the past, again, rather than looking to computing's future and CE devices?
Representatives from Apple, Samsung or Sony woud be more appropriate for the event. I'm not making a knock against Ballmer or Microsoft. This is about consumer electronics and the companies best representing the market. You agree? Disagree? Please answer in comments.