BeatBlaster gives your iPad a new Hi-Fi makeover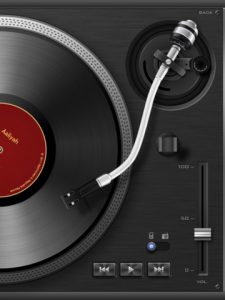 The large screen of the iPad means that it is ideally suited for use as a movie player, but there is no reason that it cannot also be used to listen to music. BeatBlaster is a great looking music playing app that not only enables you to listen to your iTunes library on your iPad, but enables you to do so using a retro styled Hi-Fi.
There are few people that still make use of a traditional Hi-Fi these days, but by popping your iPad into a dock and hooking it up to a set of speakers, you can take a step back in time while benefitting from great sound quality.
The main view of the app is that of a Hi-Fi, complete with a graphic equalizer, basic playback controls and links to other aspects of the app. For many people, watching the bounce of a graphic equalizer was a great accompaniment to listening to music but if this does not appeal, BeatBlaster has another couple of options available to you. You can also switch to Turntable mode in which you can watch digital vinyl spinning while you listen, or you can watch a pair of speaker cones pumping.
There's no denying that this is a stylish looking app, but this does not mean that features have been scrimped on. As well as listening to the music collection you have synchronized with iTunes, you can also use the app to listen to online radio stations. When you are listening to music you can click through to read song lyrics or artist information and comprehensive sound controls are available whatever you are listening to.
You may be thinking that if you have your iPad connected to a dock and a set of speakers, it is going to be awkward to switch tracks. If you're planning to settle down on the sofa for a music session and don't want to have to get up to keep switching tracks, there is a companion app available for iPhone  -- BeatBlaster Remote. As you might have guessed from the name, this simple little app, which is available free of charge, can be used to control the playback of BeatBlaster using a Bluetooth connection
Used together, this is a great combination, and you can find out more by paying a visit to the BeatBlaster review page and the BeatBlaster Remote review page.