PortableApps.com Platform 11 improves app store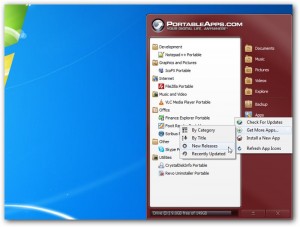 Rare Ideas LLC has released PortableApps.com Platform 11.01, a major new release of its portable application management software. PortableApps.com Platform provides a centralised interface for accessing and managing portable applications installed on a USB drive or external hard drive for ease of use.
Version 11.01 adds improved platform accessibility and keyboard navigation of the main program interface. It also provides an enhanced app store, support for incremental platform updates and improved display options.
Version 11.01's headline new feature are its platform accessibility and keyboard navigation tools. In addition to an alternative screen reader, users can now navigate the platform app's Start menu using the arrow and [Tab] keys, while a quick trip to the Advanced tab of the platform's Options screen allows users to also configure the app store and updater with a keyboard-friendly selection method.
The latest build also provides a choice of four app store views, allowing users to choose to browse the store by category, title, recently updated or brand new apps. It also introduces support for incremental platform updates, which Rare Ideas promises will lead to new features being made available more quickly.
PortableApps.com Platform 11.01 also adds a number of useful organization options to the Advanced tab of the Options screen: users can show installed apps in the app directory, make favourite apps more visible, improve categories and even generate a report file of all installed apps for troubleshooting purposes.
Version 11.01, which also includes a number of minor bug fixes for problems detected during the initial release of 11.0 at the end of last week, also updates translations for several languages, including French, Italian, Portuguese (Brazil), Polish and Slovenian.
At the same time as launching version 11, Rare Ideas has also outlined a roadmap for the next major build, which should be available shortly via the program's beta channel. Planned improvements include built-in support for file associations, improved Windows 7/8 integration and customisable themes, plus easier and quicker access to the user's most used apps. Advanced users will be able to road-test these features ahead of their official release by selection Options > Advanced tab and ticking "Update to Beta platform releases".
The PortableApps.com Platform 11.01 is a freeware download for PCs running Windows XP or later. Users can also purchase a range of flash drives with the software pre-installed, with prices starting from $29.95 for an 8GB drive.