Beware of fake Bad Piggies apps on Chrome Web Store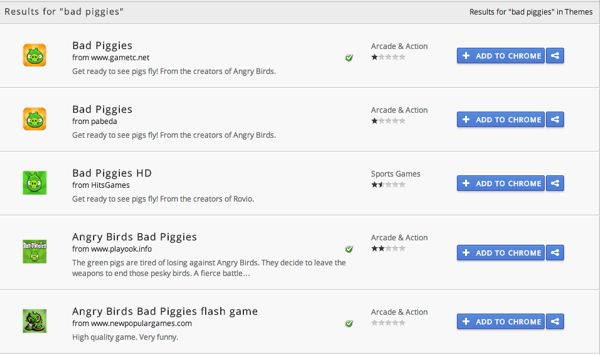 "Bad Piggies", a mobile game that was quietly launched by software company Rovio Mobile, is one of the most popular games to be launched in the late period. Unfortunately, it's also a security risk if installed via third-party, free, extensions from the Chrome Web Store that claim to be the original app.
Security experts from Barracuda Networks have analyzed the number of free apps that turn up after searching for the popular game title in the Chrome Web Store. The company has found that these extensions, while obviously being a far cry from the actual Bad Piggies game, require elevated permissions. To profit from misleading the user, they also install a plug-in that delivers advertisements on popular websites. The severity of this security risk might be overlooked by users seeking to play the popular title.
Aside from trying to profit by delivering advertisements which are injected into popular websites such as Yahoo!, MSN, IMDB, eBay, Angrybirds, etc., the biggest issue is the requirement for elevated permissions, which allows the extension to access data on all websites, even though the game should only be related to a single website on which it is hosted.
Users are likely mislead by the "Bad Piggies" game description, even though the first warning sign should be the title that doesn't match that of the original.
According to Barracuda Networks, more than 82,000 Google Chrome users have one of these fake apps installed, and that was only a few days ago. Numbers rose significantly between October first and second when the bad apps were being tracked.
In this case, it's only safe to download the game from appropriate mobile sources such as the iTunes App Store and Google Play for Android smartphones and tablets, and to avoid apps claiming to be Rovio games that aren't published by Rovio itself.
The question that rises from the report is whether Google adequately checks out a submitted app before allowing it into the Chrome Web Store. Bad Piggies serves as an example that maybe there isn't enough oversight.