F-Secure Key: a password manager for iOS, Android, Windows, Mac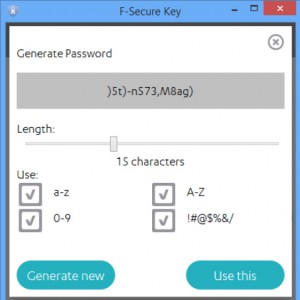 Helsinki-based security company F-Secure has released Key, a password manager for iOS, Android, Windows and Mac.
The program has similar features to many competitors. You can enter your login details for multiple URLs; a secure password generator helps you generate new credentials, and your AES-encrypted database is protected by a single master password.
There are several ways to enter these passwords later: you can transfer them via the clipboard, choose them on a drop-down list from the password field, or enter both user name and password automatically (the latter option isn't available on iOS devices, unfortunately).
Each of the clients is free to download, install and use. Syncing passwords across your devices requires purchasing a subscription, though. As we write, it's around $2.40 a month, $20 a year, a little more expensive than some others (LastPass provides unlimited mobile app use with syncing for an annual $12).
F-Secure is keen to point out that your data remains very secure, though, even when it's on their servers. The company never sees any unencrypted information, and can't identify which data belongs to a particular user. What's more, the Key servers are "owned and operated by F-Secure within the European Union", so getting them to hand over whatever logs they have won't be easy.
From what we've seen so far, Key works well enough as a free password manager on a single device. Syncing is a little expensive, though, and there are no other compelling features which are likely to persuade you to upgrade. But if you'd like to sample F-Secure's latest for yourself, the various clients are available now.