Password-protect your PDFs with Free PDF Protector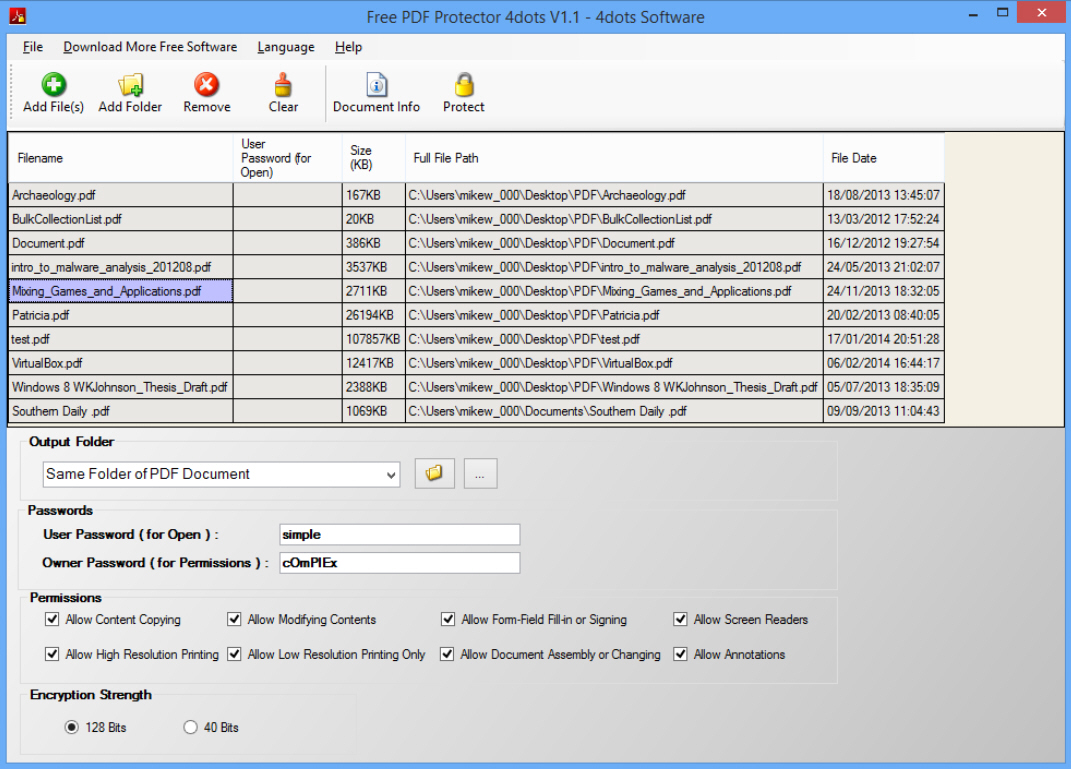 Saving a document as a PDF has several advantages, in particular that it'll be accessible on just about every device and platform around.
If you need to control exactly who can access your file, though, and what they can do with it, then you might be interested in Free PDF Protector.
The program enables you to encrypt and password-protect entire folders of PDFs in a single operation. It also supports various PDF permissions, so you can try to prevent users from copying or modifying content, filling in forms or signing, printing (at all, or just at high resolution), re-ordering or annotating the file.
Free PDF Protector looks and works more or less as you'd expect. Buttons allow you to add individual PDFs or an entire folder. The various options -- passwords, encryption strength (40/ 128-bit), permissions -- are all accessible on the same screen. Set it up as you need, click "Protect" and your documents are encrypted immediately.
A less visible bonus feature means you're able to set the tags for any selected PDF files. Just click Document Info and you can assign their Title, Author, Subject, Keywords, Creator, Creation and Modification Dates.
There is still a little room for improvement, particularly with the interface. The document list isn't much use: you can't double-click a file to open it, right-click to view its Explorer Properties dialog, or anything else. There's no option to mask passwords; they're always displayed. The main window and table are sort-of resizable, but this doesn't work quite as it should.
These are small issues, though, and for the most part Free PDF Protector works very well. Drag and drop a whole folder of PDFs and it'll have them password-protected in just a few seconds.