Logitech Bluetooth Audio Adapter adds wireless connectivity to old gear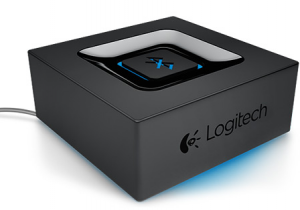 Bluetooth audio is all the rage nowadays. It can be found in headphones, speakers, automobiles and more. However, this does not mean that non-Bluetooth audio gear is obsolete -- quite the contrary. In fact, there is a very good chance that your older equipment offers better sound and features. It is a shame to discard that tech for a lack of a wireless connection.
Luckily, you don't have to. You see, many manufacturers offer solutions to this dilemma, such as an analog to Bluetooth converter box. The problem is, many of them are unattractive and too large to truly blend in. After all, you do not need to see the thing; ideally you want it out of sight, yet easy to access. Don't worry, Logitech has you covered with the all-new Logitech Bluetooth Audio Adapter.
"In the past few years, Bluetooth technology has essentially become ubiquitous in the world of speakers -- regardless if they're desktop, mobile or home entertainment speakers. But, these hot new products can potentially put a little dent in the ole wallet. Fret no more! Now you can enjoy Bluetooth connectivity without worrying about breaking the bank with the Logitech Bluetooth Audio Adapter", says Logitech.
The company further explains, "with this adapter, you can quickly and easily turn your favorite speakers into a wireless sound system for your new smartphone and tablet. You can use it with PC speakers, home stereo systems and even A/V receivers. Simply attach the adapter to your speakers using a 3.5 mm audio input or standard RCA connection, pair your smartphone or tablet with the press of a button and you're good to go. With multipoint Bluetooth connectivity, you can simultaneously pair two devices to powered speakers from up to 50 feet away".
Again, this device is not a new concept; heck, it is not even the first such product from Logitech. However, it is extremely small and good-looking, which makes it an attractive purchase for consumers. Besides the very low $39.99 price, the multipoint connectivity is the real selling point. Having two devices connected at once makes it a fun option for couples, as they can take turns relaxing and playing music from their device -- very cool.
Will you buy it? Tell me in the comments.