SanDisk hopes to win the hearts (and wallets) of gamers with Extreme PRO SSD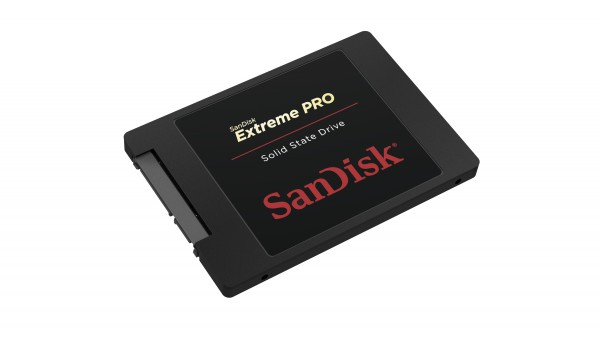 Believe it or not, system builders are a diverse set. Some people focus on looks, others on performance and some on value. However, gamers are typically the ones that push the boundaries with performance and high-costs when building rigs. While some people will write-off video games as a silly time waster, they are actually a vital driver of personal computing innovation. Hell, it is also good financially for the hardware business -- new games need better hardware and gamers are willing to pay to play.
Beyond expensive video cards and overclocked CPUs and RAM, gamers are constantly looking for a way to gain an edge. Anything that can make a game load faster, even by seconds, is extremely attractive to them. Today, SanDisk announces the Extreme PRO SSD -- a storage solution for gamers that want to utilize SATA III rather than much costlier options. PlayStation 4 owners will want to take notice too.
"With sequential read speeds of 550 megabytes/second (MB/S) and write speeds of up to 520 MB/s, the SanDisk Extreme PRO loads and runs graphics-intensive applications and game levels in a heartbeat. Additionally, by offering up to 1TB-Class of capacity, the SanDisk Extreme PRO SSD provides the space needed to store even the biggest programs, games or files, and load them blazingly fast -- transforming any PC or console into a serious gaming machine", says SanDisk.
Kevin Conley, SVP, SanDisk says, "building off the success of our award-winning SanDisk Extreme II, the new SanDisk Extreme PRO leverages the latest developments in our innovative nCache Pro Technology to enable 24x7, real-world drive performance and responsiveness. With its ability to deliver consistently fast computing backed by the industry's first 10-year limited warranty, the Extreme PRO SSD delivers the performance, trusted reliability and value that enthusiasts and professionals expect from SanDisk".
Whoa, a 10-year warranty? Yup, that alone is a killer feature for an SSD. To offer such a long warranty signals the company's confidence in the reliability and longevity of the drive. Of course, the privilege of owning such an SSD comes at a price -- 240GB  ($189), 480GB ($369), and 960GB ($599). If you do decide to spend the money, you won't have to wait long, these drives will be available later this month.
Will you buy it? Tell me in the comments.